Did you know a staggering 70% of top software engineers secure their roles through specialized online platforms, not the typical job boards?
It's a trend that's gaining momentum, especially when companies aim to hire software engineers in Europe.
For job seekers, sifting through countless job listings often leads to fatigue, and for those hiring, finding the perfect match from heaps of resumes can be a daunting task.
Imagine a simplified space where Europe's finest tech roles and talents converge effortlessly. Intriguing, isn't it?
This transformative wave is currently sweeping across Europe. Innovative websites are emerging, dedicated solely to matching software engineers with companies in dire need of their expertise.
And the big question: which platforms are leading this change?
You're about to find out. In this blog, we're diving deep into the top 5 platforms in Europe that are revolutionizing the hiring process.
Whether you're a software engineer on the job hunt or a company scouting to hire software engineers in Europe with unparalleled talent, this is the guide you didn't know you needed.
The Rise Of Niche Platforms
In the past five years, there's been a noticeable jump in the number of software engineering jobs in Europe. Cities like Berlin, Stockholm, and Amsterdam are making names for themselves as big tech spots and looking to hire software engineers in Europe. If you've ever wondered why, it's because of how fast technology is moving forward.
Now, there's a trend growing. Companies and job seekers are looking for the best place to hire developers, choosing niche websites over the usual big job boards. These websites are just for certain jobs and talents. Let's think about why that's happening.
Take a look at this graph showing the push to hire software engineers in Europe, especially for particular roles. Numbers don't lie-
Software engineering demand in Europe in 2021 and 2022, by role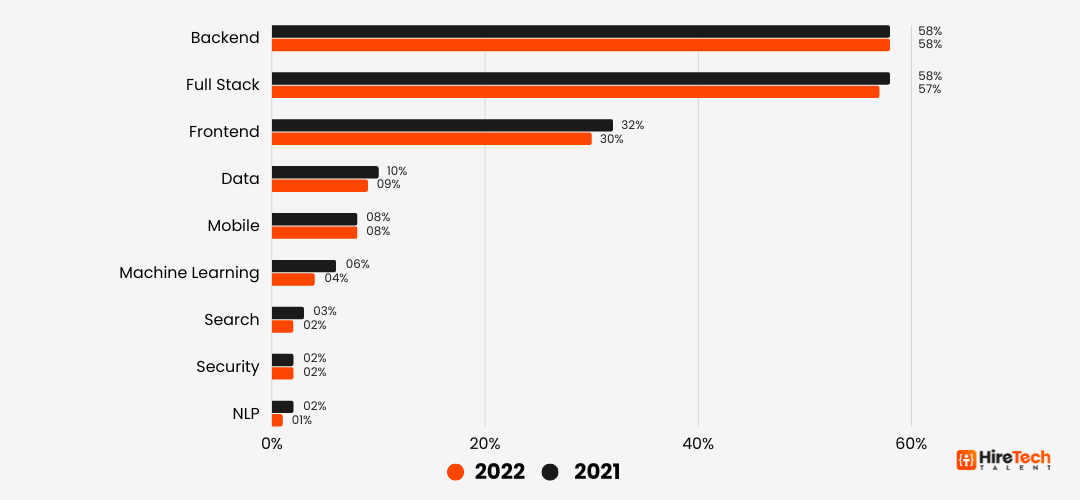 Why Are Niche Platforms Getting Popular?
Efficient Job Hunting: Both job seekers and employers aim for the best match. No one likes wasted time. Specialized websites streamline this, ensuring that companies hire software engineers in Europe and potential employees connect faster with them.
Fast-paced Tech World: Technology keeps evolving, demanding unique skills. Traditional job boards might not keep up, but these niche platforms? They're on the ball.
Advantages for Businesses: Companies find it much more straightforward to hire software engineers in Europe using these sites. It's cost-effective, speedy, and often results in better employee-company compatibility.
A Win for Software Engineers: For software engineers, these platforms are a boon. They highlight jobs tailored to their expertise and aspirations, leading to more job satisfaction.
More than Just Job Listings: Beyond just job postings, these platforms also offer events, learning opportunities, and networking sessions. It's a holistic community experience.
Smart Matching with Data: These sites are more than just platforms; they're intelligent systems. They leverage data to pair the right job seeker with the perfect company. This precision ensures that companies and individuals find their perfect match.
Given the high demand for tech expertise, it's no surprise that these top 5 platforms are the primary resources to hire software engineers in Europe. They simplify the process, ensuring everyone finds what they're looking for.
Diving Deep Into The Top 05 Platforms To Hire Software Engineers In Europe
Navigating your way to hire software engineers in Europe can be challenging, especially when you're looking for the best. With countless platforms available, it's essential to pick the right ones.
In the next sections, you'll discover five standout platforms that are making a significant impact and making it easy for recruiters/companies to hire software engineers in Europe. Each has its distinct features and strengths, but all are committed to connecting employers with top-tier tech talent.
From the novel concept of reverse recruitment to the trusted names in tech hiring, you're about to get a clearer picture of where to turn when aiming for the best website to hire developers. Let's get started.
1. Hire Tech Talent – A Reverse Recruitment Platform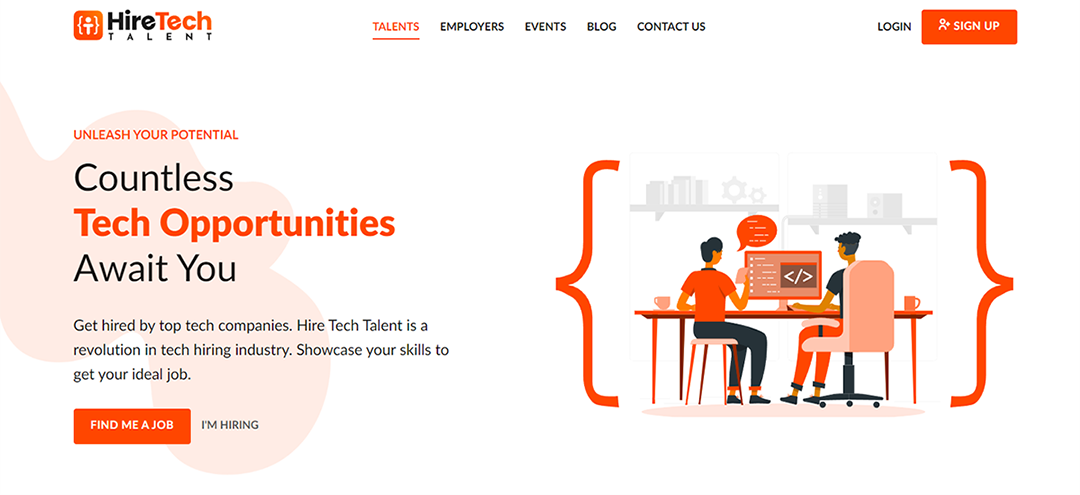 Hire Tech Talent is more than just a job site; it's a revolutionary approach. Being new, it's already making waves. With its reverse recruitment, the entire hiring process has been streamlined, placing candidates at the forefront.
Companies reach out, and this simple change has made it the best website to hire developers. Serving for a little over a year, it's garnered attention for its user-friendly design. By reimagining hiring, Hire Tech Talent ensures you reach the right candidates and makes it easier to hire software engineers in Europe.
Top key features:
Create a profile without any CV or PFDs.
Direct conversations without third-party intrusions.
Tailored opportunities that match a candidate's profile.
Enhances visibility to top companies.
Get insights on your profile's performance.
2. Germany Startup Jobs – Fueling The German Tech Dream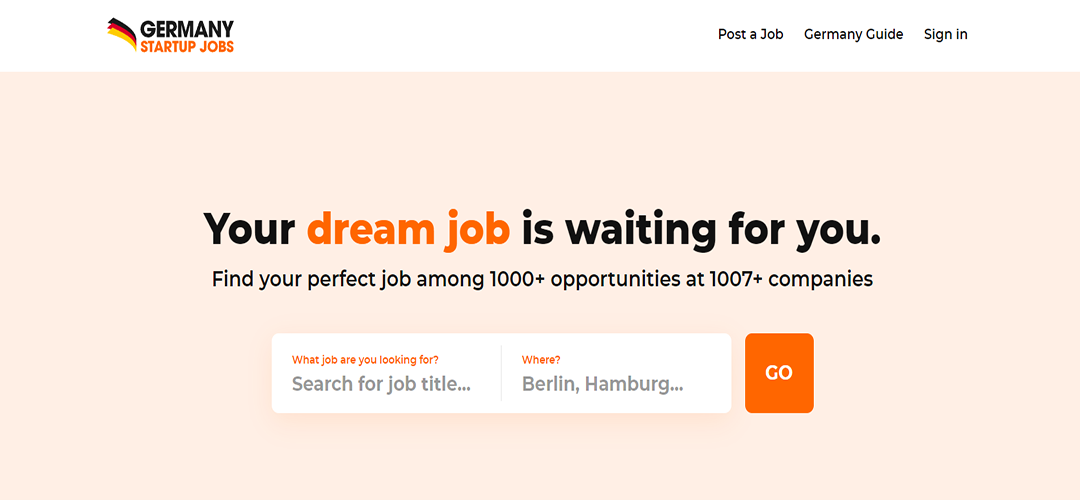 For nearly four years, Germany Startup Jobs has been the cornerstone for tech enthusiasts wanting to join a startup. With its specialized focus, candidates and startups can find a perfect match.
The platform recognizes the burgeoning startup scene in Germany and makes it easier for these new companies to find their dream team. Specialty: Empowering German tech startups. With simplified connection between innovators and implementers, they offer exclusive services:
Top key features:
Job suggestions based on preferences.
Learn about upcoming tech job fairs.
Experience profile screening with 'Talent Advocates'.
Control profile/job post visibility.
Less time-consuming as compared to traditional recruitment.
Also Read: How to get IT job in Germany from India 2023 – A complete Guide
3. Turing – Global Talent, European Ventures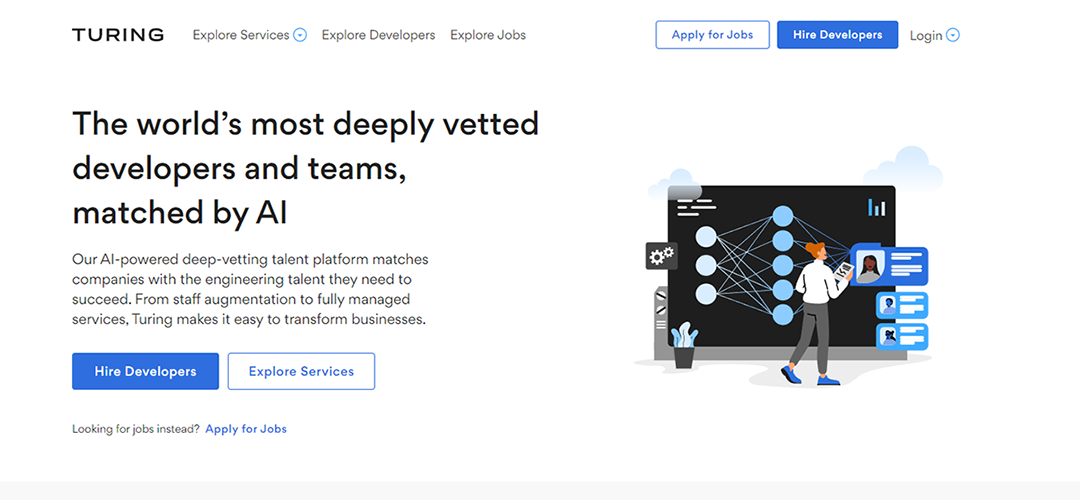 Turing has been on a six-year journey to change the way companies hire software engineers in Europe. By making global talent accessible, Turing offers companies an edge in a competitive market.
The platform believes that talent knows no borders and has made this its central philosophy. Uniting global talent Turing erases boundaries in tech recruitment.
Top key features:
Access a worldwide talent pool.
Ensuring the best fit for the job.
Making hiring efficient and quick.
Trustworthy and prompt.
Stay updated with global tech trends.
4. Gun.io – The Freelance Force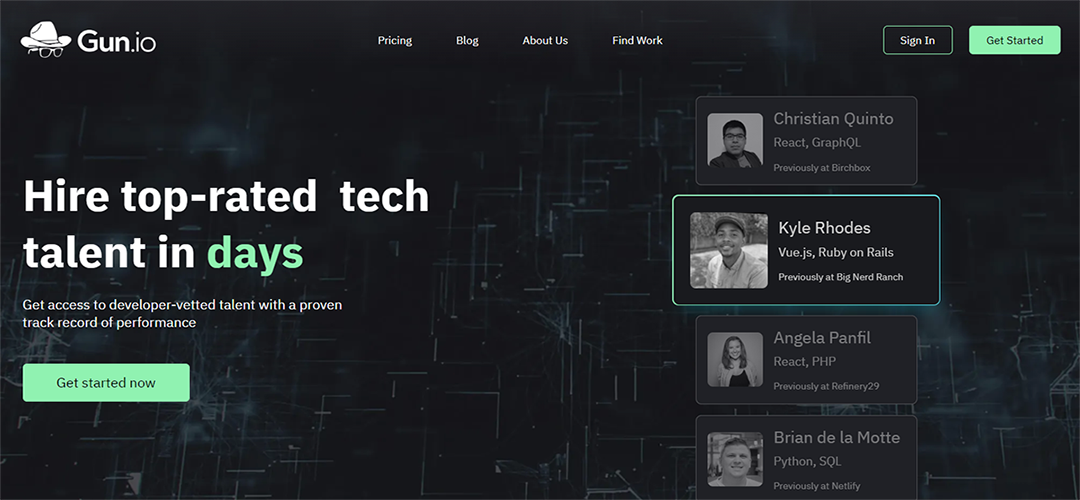 Celebrating its eighth year, Gun.io understands the power of freelance. In a world rapidly gravitating towards flexible work models, it's a pioneer.
Companies, especially those eager to hire software engineers in Europe, have started realizing the potential of freelancers, and Gun.io is their platform of choice. Advocating freelance brilliance, this platform brings freelance opportunities to the forefront.
Top key features:
Immediate opportunities for freelancers.
Trustworthy candidate information.
Ensuring freelancers get their dues.
Streamlining the freelance journey.
24/7 assistance for any queries.
5. Tech Job Wall – Amplifying Your Reach with One Click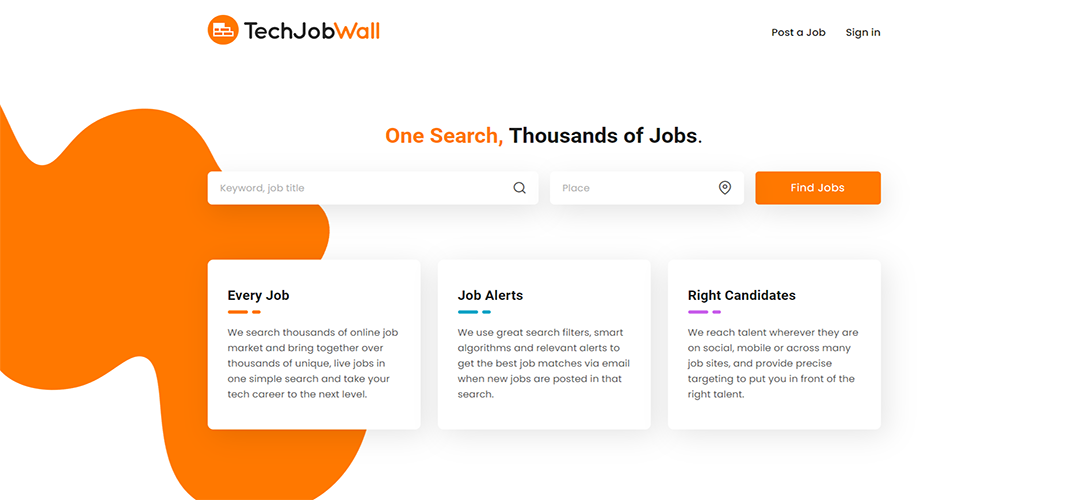 Tech Job Wall simplifies the way companies reach potential employees. With a strong social media network and the ability to post job listings across multiple job groups, it's all about getting the right people in the right place. Whether you're looking for software engineers or other tech talent, Tech Job Wall makes it easy to connect.
It expands job reach through social networks, connecting employers and talent across job boards and strong social media networks.
Top key features:
Personalized job alerts via email for newly posted jobs.
Advanced targeting and matching process.
Global niche based hiring platform.
Quality hiring focused on skill ratings.
Saves time spent on recruitment.
Before we move onto the next section, if you are looking to hire remote software developers from India, you can also read our blog- Top 10 Platforms to Hire Remote Software Developers from India, to get an in-depth insight on all the popular platforms and how affordable it can be to get such talent tech professionals with innovative minds.
Finding The Best- Checklist To Select The Best Reverse Recruitment Platform
This checklist simplifies the decision-making process to help you hire software engineers in Europe, highlighting essential features tailored for both job seekers and employers.
Not only will it offer a clear lens through which you can evaluate different platforms, but it also ensures you don't miss out on crucial elements that can drastically improve your recruitment experience.
By following this guide, you're setting yourself up for a successful match, whether you're hunting for an ideal job or the perfect candidate.
| No. | What to Look For | If You're Job Hunting | If You're Hiring |
| --- | --- | --- | --- |
| 1. | Intuitive Interface | Simple profile setup and seamless browsing. | Manage and view profiles with ease. |
| 2. | Clear Hiring Metrics | Know when your profile shines in the spotlight. | Gauge candidate enthusiasm and interactions. |
| 3. | Matchmaking by Skills | Tailored job matches based on your prowess. | Find candidates with pinpointed expertise. |
| 4. | Prime Opportunities | Connect with established and authentic employers. | Engage with top-tier and keen candidates. |
| 5. | Seamless Communication | Direct chats with potential employers. | Efficient dialogue with prospects. |
| 6. | Control Over Visibility | Control who can see your profile. | Get visibility of required candidates as per role. |
| 7. | Stay Safe Online | Sleep easy with fortified data protection. | Ensure corporate data and hiring discretion. |
| 8. | Profile Verification | Get help to complete your profile from 'Talent Advocates'. | Engage with pre-screened talents. |
| 9. | Advanced Filters | Zero in on fitting job prospects. | Swiftly navigate to ideal candidate profiles. |
| 10. | Embedded Chat System | Swift communication on-the-go. | Expedite hiring discussions. |
| 11. | Tech Job Fair Access | Multiple opportunities, one platform. | A dense pool of tech enthusiasts at your fingertips. |
| 12. | Precision in Results | Platforms that align with your aspirations. | See candidates that resonate with company values and needs. |
How To Hop On The Hire Tech Talent Train
Navigating a new platform can sometimes be intimidating, but with Hire Tech Talent, it's straightforward and user-friendly. Whether you're an employer seeking to hire software engineers in Europe or a software engineer looking for your next big opportunity in Europe, this guide will help you get started effortlessly.
Dubbed by many as the best website to hire developers, let's explore how to maximize its features.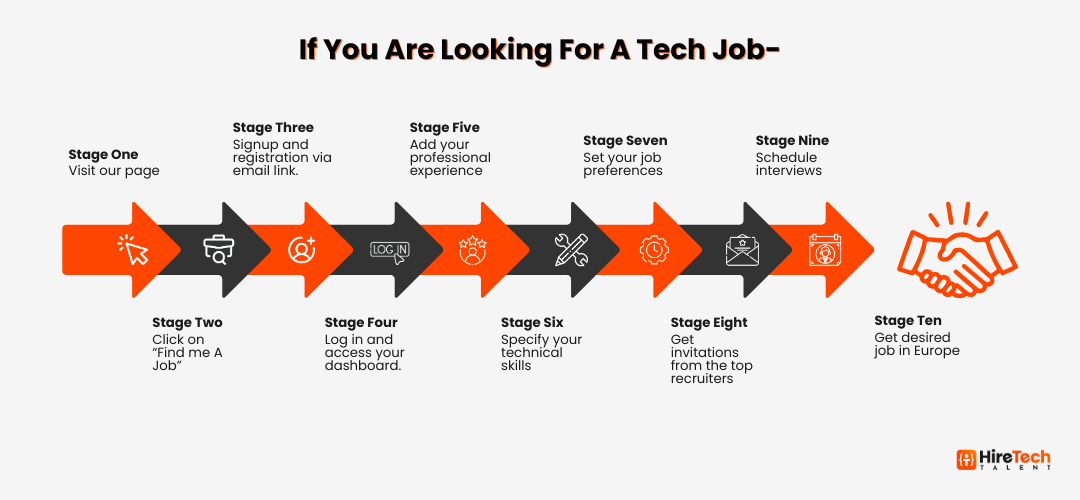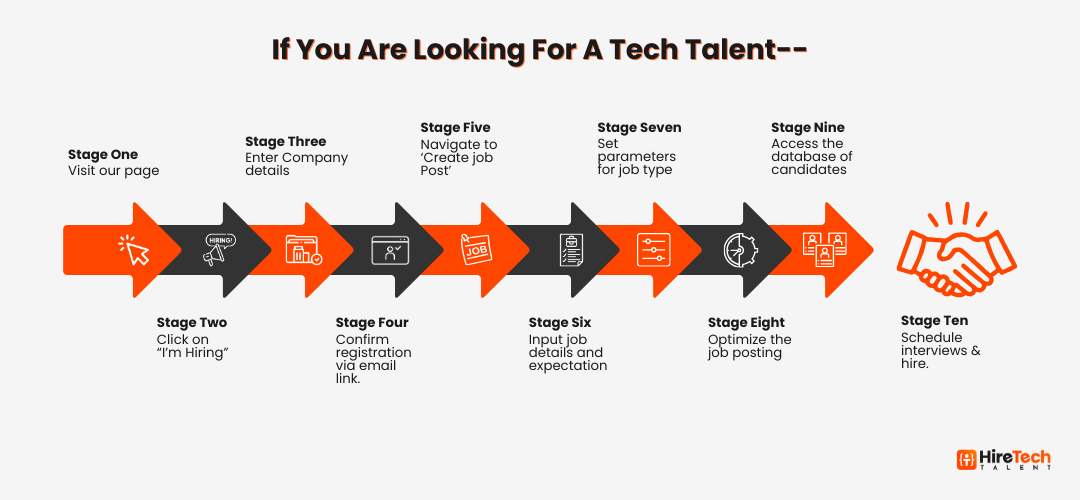 Rounding Up The Best In European Tech Recruitment
Europe's tech scene is always changing, and there's a big need to hire software engineers in Europe. Because of this, there are special platforms just for tech jobs, not just the usual job websites.
Many platforms like Turing, Germany Startup Jobs, Gun.io, and Dice have been around for a while. They help companies find the right tech people. But now, there's a new one called Hire Tech Talent. This website does things differently. They use a "reverse recruitment system". That means both people who want jobs and companies looking for workers can find what they need easily. If a company is searching for the best website to hire developers, or if a developer wants to work in Europe, this site stands out.
The real goal isn't just to find a job or worker. It's about making sure the job, skills, and what people want all match up. And if you're thinking about the best place to hire developers, Hire Tech Talent is the answer. Europe's tech world keeps growing, and using the right platform can make all the difference. These websites are tools to help everyone succeed in the tech world.
Thinking about the next step in tech? Contact us today.