Do you know- There's a huge demand for IT jobs in Germany! As of 2023, Germany is scouting for a staggering 60,000 IT specialists. This means there's a sea of opportunities for IT jobs in Germany waiting for someone like you. And if you're wondering how to get a work visa in Germany, worry not. We'll touch upon that vital step too, ensuring your dream doesn't get stuck in paperwork.
Germany isn't just about beer and cars. It's long been a magnet for tech excellence. From pioneering research to state-of-the-art infrastructures, and now, the rising demand for tech jobs in Germany. If you've set your eyes on IT roles there, now might just be your chance to dive into the hub of tech jobs in Germany.
Here, we'll break down why Germany is becoming the favorite spot for tech enthusiasts. You'll also learn about the perks of working there and, importantly, all the nuances of landing those coveted IT jobs in Germany.
Why Every Techie Would Love Germany?
Tech Cities to Watch
Berlin, Munich, and Frankfurt are more than just tourist spots with their rich history and culinary delights. They are bustling centers for tech innovation and IT jobs in Germany. These cities are leading the way for tech jobs in Germany, packed with budding startups and established tech giants. So, if you're aiming to land an IT job there, be ready to become part of a thriving tech community.
Always Thinking Ahead
Germany's focus isn't just on its current successes; it's always gearing up for the future. And in the tech world, this means breakthrough projects and innovations. If you're keen on being at the forefront of technology and looking for IT jobs in Germany, then be ready for countless opportunities.
Life Outside Work
Germany promises a balanced life. Reliable public transport, top-tier healthcare, and a rich cultural scene are some of its highlights. And for those in the IT sector? The perks are even better: competitive salaries and benefits await.
Everyone's Welcome
For tech enthusiasts eyeing international horizons, Germany is ready to greet you with a warm 'Willkommen'. The country values diversity in its tech spaces, ensuring everyone feels right at home, no matter where they come from.
Tech Landscapes: Exploring Germany's Top Cities for Tech Professionals
Germany's tech sector is flourishing, offering a wealth of opportunities for tech professionals from around the world. Take a closer look at five key cities, each with its own unique tech landscape and enticing prospects for those seeking to advance their careers in technology.
Berlin: Berlin, a global cultural hotspot, also boasts a burgeoning tech scene, primarily seeking creative tech talents for roles in software development, digital marketing, and user experience design, with prominent startups like Delivery Hero and SoundCloud calling it home.
Munich: Munich is a high-tech hub renowned for its automotive and engineering industries, actively seeking tech professionals in fields such as autonomous driving, mechanical engineering, and data science, with tech giants like BMW and Siemens leading the way.
Frankfurt: Germany's financial capital, Frankfurt, seeks tech talents with expertise in fintech, cybersecurity, and data analytics, offering a robust job market with financial institutions like Deutsche Bank and tech-driven startups like Scalable Capital.
Hamburg: Hamburg, a port city, emphasizes tech roles in logistics, maritime tech, and media, attracting tech-savvy individuals to work for companies like Kühne+Nagel, Airbus, and media giants like Axel Springer.
Stuttgart: Stuttgart, a stronghold of automotive innovation, seeks tech experts in automotive engineering, robotics, and artificial intelligence, with global leaders like Mercedes-Benz and Bosch headquartered here, driving technological advancements.
Is Landing a Job in Germany Really That Tough?
At first, the idea of relocating and bagging a job in a new country might feel like you're trying to conquer the world's tallest peaks. But let's break it down a bit. The growth curve in Germany's tech arena has been nothing short of phenomenal. And what does this mean for IT enthusiasts? A surge in openings for IT jobs in Germany, so much so that there are more IT jobs in Germany than there are professionals to fill them!
Consider a detailed table highlighting the surge in IT job openings in Germany over the last half-decade. The numbers could help paint a clear picture. Just to give you a gist:
| Country | Average Annual IT Salary (in Euros) | Average Work Hours/Week | Job Satisfaction (Out of 5) |
| --- | --- | --- | --- |
| Germany | 55,000 | 38 | 4.5 |
| France | 45,000 | 35 | 4.2 |
| Netherlands | 50,000 | 36 | 4.4 |
| Sweden | 53,000 | 36 | 4.6 |
| Spain | 40,000 | 39 | 4.0 |
| UK | 52,000 | 37 | 4.3 |
Source: www.statista.com
With a rising trend in job openings, especially tech jobs in Germany, the future looks promising for international tech professionals, including those from India. Furthermore, what stands out in the German job market is their emphasis on genuine expertise. If you've got the skills and can present them effectively, the odds are in your favor to grab the top IT jobs in Germany with a thriving tech landscape.
Now let us move to the next section to understand how you can find jobs in Germany, as in today's world you have to take charge of your career and decide what is better for you. This section will be out ways to reach potential employers and how you can do that. To know more about setting your career on cruise control, read our blog – Empowering Tech Talent: Take Control of Your Career Journey.
1. Building a Standout Profile
Consider your professional profile as your introduction ticket to potential employers. It's vital to refine your resume, highlighting skills and experiences that resonate with IT jobs in Germany. Delve into the specific needs of the role you're eyeing in the German tech sector and mold your profile to mirror those. This alignment can dramatically increase your chances and make you a preferred choice for many recruiters.
2. Join Tech Job Fair
Tech Job Fairs are golden opportunities to mingle with hiring managers and representatives from top tech firms. These gatherings shed light on the current pulse of the industry, the ethos of participating companies, and the wide array of IT jobs in Germany. When you step into such events, you're not just attending, but actively showcasing your prowess, learning firsthand, and forging lasting professional bonds.
3. Gear Up for the Fair
Before setting foot at any fair, dive deep into researching the companies that have caught your eye. Craft a succinct elevator pitch that resonates with what they're looking for. Dress the part, have your resumes at the ready, and stride in with confidence, ready to articulate your skills and past achievements. You can look into Tech Jobs Fair– it is one of the leading job fairs that offer opportunities around the world and especially in Germany.
4. Make Reverse Recruitment Work for You- Hire Tech Talent
Many Indian professionals dream of seeking IT jobs in Germany. However, the typical journey often feels like you're lost in a dense forest, sifting through countless job listings, trying to decode foreign job prerequisites, and battling stiff competition.
But what if there was a simpler path?
Hire Tech Talent– Instead of being the seeker, you become the sought-after. Instead of knocking on company doors, they come knocking on yours. You set up a profile that highlights your prowess, and German companies, hungry for your skillset, come calling.
Wondering how this magic works? Let's dive a bit deeper.
Benefits & Features:
Direct Outreach: Say goodbye to the fatigue of sending out countless applications. If a company likes what they see, they'll approach you.
Tailored Matches: With "Hire Tech Talent", you're not thrown into a vast ocean. You're placed in a selective pool where companies offer IT jobs in Germany and other countries as well.
Transparency: No guesswork. You get a crisp picture of the job role, expectations, and the ambiance of the company from the get-go.
Sounds tempting? Here's how to get IT jobs in Germany by creating a simple profile and get offers from the top German companies.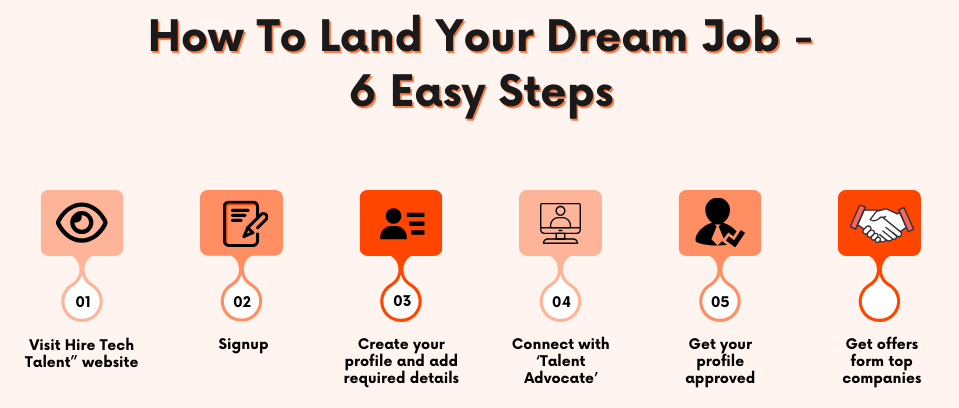 Getting a Work Visa in Germany for Indians
Navigating the intricacies of visa applications can be daunting. But with the right steps and preparation, your journey to working in Germany can be smooth. This guide simplifies the process, ensuring you're equipped and ready.
Which Visas You Can Use To Get IT Jobs In Germany: Visa Requirements & Types
Each of these visa categories offers a pathway for Indian nationals to pursue employment opportunities in Germany, catering to different skill levels and circumstances. The most common visa types include:
Schengen Visa (Short Stay)

If your country doesn't have a visa exemption agreement with Germany, and you plan to stay in Germany for a short duration, such as for business, tourism, or visiting relatives, you'll need a Schengen visa. This visa allows you to stay in Germany and the Schengen area for up to 90 days within a 180-day period.

Skilled Worker Visa

Tailored for Indian professionals possessing a recognized university degree and a confirmed job offer from a German employer. This visa is suitable for those seeking employment in their specific field of expertise.

EU Blue Card

Designed for highly qualified Indian professionals with a recognized university degree, a binding job offer that meets minimum salary requirements, and proficient language skills. This card provides access to various European countries and facilitates skilled labor mobility.

Job Seeker Visa

Ideal for Indian graduates looking to explore job opportunities in Germany. This visa allows you to reside in Germany for up to 06 months while actively searching for employment. You must hold a recognized university degree and demonstrate sufficient financial means to sustain yourself during your job hunt.

National Visa (Long Stay)

For stays in Germany lasting more than 90 days, you'll need a national visa (category D visa). This visa grants you entry into Germany with the intention of applying for a residence permit. You'll need to convert your national visa into a residence permit within three months of arriving in Germany. The purposes for which national visas are typically granted include:
Joining a spouse, partner, or family member in Germany.
Employment as an employee or freelancer.
Academic or scientific research.
Job hunting.
Pursuing higher education or training.
Working as an au pair.
Launching a business as an entrepreneur.
Seeking refuge or asylum.
Note: Be sure to check with your local German mission for specific application procedures and documentation requirements based on your individual circumstances.
Visa Requirements for Germany
Before packing your bags, also make sure you meet the following requirements for entering Germany, even if you don't require a visa:
Clear Purpose: Your reason for visiting Germany must be plausible and comprehensible, whether it's for business, leisure, family visits, work, study, or other legitimate purposes.
Valid Passport: Ensure your passport remains valid for at least six months beyond your planned stay in Germany.
Financial Capacity: You should have the means to finance your living expenses and travel costs during your stay.
Exit Plan: Be prepared to leave Germany before your visa expires; this often involves having a return flight booked.
Travel Health Insurance: It's crucial to have travel health insurance coverage during your stay in Germany.
Security: You must not pose a threat to the security or public order of Germany.
Visa Application Fees
| Type of Visa | Fee |
| --- | --- |
| Schengen visa single entry (90 days) | 80 euros |
| Schengen visa multiple entry (90 days) | 80 euros |
| Schengen visa children 6-12 (90 days) | 40 euros |
| Schengen visa children 0-6 (90 days) | 0 euros |
| Transit visa (ages 12 and above) | 80 euros |
| Transit visa children (6-12 years) | 40 euros |
| Transit visa children (0-6 years) | 0 euros |
| National visa (aged 17 and above) | 75 euros |
| National visa minors (0-17 years) | 37,50 euros |
Source: www.iamexpat.de
Note: The German embassy's official site always provides the most current fee structure.
How To Get a Work Visa In Germany: Documentation And Application Process For Indians
Here's a straightforward guide for Indian nationals on how to obtain a German work visa. Follow these steps to kickstart your journey to work in Germany.
Document Checklist: Prepare the required documents, which typically include:

A valid passport with at least six months of validity beyond your planned stay.
A completed visa application form, available on the German embassy or consulate's website.
Your job contract or a formal job offer letter from the German employer, specifying your role and terms of employment.
Proof of comprehensive health insurance coverage that meets German requirements.
Academic or professional qualifications, such as degrees and certificates relevant to your job.

Job Offer: Start by securing a job offer from a German employer. This offer must be legally binding and related to your professional qualifications.
Appointment Booking: Contact the German embassy or consulate in India to schedule a visa appointment. You can usually do this online through their official website.
Visa Application: Attend the scheduled appointment at the embassy or consulate. Remember to bring all the necessary documents in both original and photocopy form.
Visa Fees: Be prepared to pay the visa application fee, which can vary depending on your nationality and type of visa. Check the embassy's website for the current fee structure.
Interview (if required): During the application process, you may be asked to attend an interview. Be sure to arrive on time and answer any questions honestly and confidently.
Visa Processing Time: The processing time for your visa application can vary, but it's typically a few weeks. Check with the embassy for the estimated processing time.
Visa Collection: Once your visa is approved, you will receive your passport with the visa stamp by mail or in person at the embassy/consulate, depending on their procedures.
Tip: It's good to start gathering these things early. Sometimes, it takes time to get all your papers ready. If you have everything in hand, the process will be faster and easier.
Language Proficiency Requirements for Getting a Job in Germany from India
The language proficiency levels required to get a job in Germany from India vary depending on the specific job and the company. However, as a general rule of thumb, a B1 or B2 level of German proficiency is required for most jobs.
Here is a brief overview of the different levels of German proficiency according to the Common European Framework of Reference for Languages (CEFR):
A1: Beginner
A2: Elementary
B1: Intermediate
B2: Upper intermediate
C1: Advanced
C2: Proficient
A B1 level of German proficiency means that you can understand the main points of clear standard input on familiar matters regularly encountered in work, school, leisure, etc. You can deal with most situations likely to arise whilst traveling in an area where the language is spoken.
A B2 level of German proficiency means that you can understand the main points of complex standard input on both concrete and abstract topics, including technical discussions in your field of specialization. You can interact with a degree of fluency and spontaneity that makes regular interaction with native speakers quite possible without strain for either party.
If you are applying for a job in a highly specialized field, such as engineering or medicine, you may need to have a higher level of German proficiency, such as C1 or C2.
Here are some tips for improving your German language skills:
Take a German language course at a reputable institute, such as the Goethe-Institut.
Take an online test to gage your fluency
Immerse yourself in the language by watching German movies and TV shows, listening to German music, and reading German books and articles.
Practice speaking and writing German with native speakers or other learners.
Consider taking a language proficiency test, such as the TestDaF or Goethe-Zertifikat, to showcase your skills to potential employers.
Even if you do not speak German fluently, learning a few basic phrases can go a long way in showing your potential employer that you are interested in the job and the German culture.
Settling in Germany: A Practical Guide for Expats
Accommodation Search: Start your accommodation search well in advance. Use websites like ImmobilienScout24 and WG-Gesucht to browse apartments or shared housing options. While you search for a permanent residence, consider temporary solutions like serviced apartments or Airbnb.
Registering Your Address: After arriving in Germany, it's crucial to register your address at the local Residents' Registration Office (Einwohnermeldeamt) within two weeks. For this process, bring along your passport, visa, and rental agreement as necessary documents.
Opening a Bank Account: To streamline your finances and receive your salary, open a German bank account. Institutions like Deutsche Bank, Commerzbank, and Sparkasse are expat-friendly options. Additionally, obtain a German SIM card for your mobile phone and explore local transportation choices for easier navigation.
Adapting to Work Culture: Familiarize yourself with the German work environment and culture. Punctuality, efficiency, and respect in professional interactions are highly valued. Learning the German language can greatly aid your integration into the workplace and local community.
Health Insurance: Don't forget to secure health insurance, either through public or private providers, to access healthcare services in Germany.
Residence Permit: Ensure you have the necessary residence permit if your work visa requires it. Visit the Foreigners' Registration Office (Ausländerbehörde) to complete this process.
Local Services: Set up utilities such as electricity, gas, and internet in your new accommodation. Research local service providers and choose plans that suit your needs.
Cultural Integration: Embrace the local culture and traditions. Participate in community events and language courses to make connections and feel at home.
Find Your Tech Spot in Germany
This guide is here to help you figure out IT jobs in Germany and to understand how to get a work visa in Germany, especially if you're coming from India. Each step, from matching your skills to learning about working in Germany, brings you closer to starting a great job in Europe.
Thanks to Hire Tech Talent, finding IT jobs in Germany becomes a lot easier. They help connect you with companies that are looking for people just like you. And once you're in Germany, there's so much more to explore and learn.
Germany is not just about technical jobs; it's about growing and finding out what you're capable of. Ready to find out what Germany has in store for you?
Check out Hire Tech Talent- Contact us to learn more about us and how we can help you take the first step towards your new journey today!