Germany's surge underscores the remarkable demand for job opportunities, firmly establishing it as one of the most coveted destinations for job seekers worldwide.
Did you know that the Institute for Employment Research predicts 900,000 job vacancies in Germany; an increase of 100,000 vacancies from 2023!
To put this in perspective, consider the increasing number of foreign-based tech professionals who actively seek job opportunities in Germany each year. The substantial growth in this trend reflects a rising interest in Germany as a prime career destination.
In fact, recent data shows that thousands of foreign-based tech professionals are actively trying to explore how to get jobs in Germany, drawn by its reputation for quality work, attractive compensation packages, and a high quality of life.
For foreign tech professionals with aspirations of building a successful career in Germany, this guide serves as your comprehensive roadmap.
Whether you're contemplating relocating for immediate job prospects or aiming for long-term career growth, Germany offers a myriad of opportunities.
Before diving into the nitty-gritty details and covering everything about how to get jobs in Germany, let's take a moment to recognize the giants of the German corporate world.
These top 10 German companies span various industries.
Top 10 Tech German Companies
| Company | Type of tech roles hired the most |
| --- | --- |
| SAP | Software engineers, data scientists, cloud architects, product managers, sales engineers |
| Siemens | Software engineers, electrical engineers, mechanical engineers, data scientists, project managers |
| Bosch | Software engineers, embedded systems engineers, mechanical engineers, electrical engineers, data scientists |
| Delivery Hero | Software engineers, data scientists, product managers, sales engineers, marketing managers |
| Celonis | Software engineers, data scientists, process consultants, sales engineers, marketing managers |
| BioNTech | Software engineers, data scientists, biochemists, pharmacologists, clinical trial managers |
| N26 Group | Software engineers, data scientists, product managers, sales engineers, customer support specialists |
| Zalando | Software engineers, product managers, data scientists, logistics engineers, marketing managers |
| HelloFresh | Software engineers, product managers, data scientists, supply chain managers, marketing managers |
| Personio | Software engineers, product managers, sales engineers, customer support specialists, HR specialists |
Source- Forbes Global 2000, Statista, Deloitte Technology Fast 50 Germany
These companies stand as a testament to the diverse career opportunities available in Germany, whether you're looking to join an automotive innovation powerhouse like N26 Group or contribute your tech expertise to Siemens AG's groundbreaking projects.
Now, let's embark on your journey to securing a career in Germany, beginning with understanding the crucial steps to obtain a work visa in Germany.
To navigate the German work visa process effectively, it's vital to understand the dynamics of Germany's tech job market.
Types Of Visa For Foreigners With Visa Sponsorship
In Germany, employers do play a crucial role in providing jobs in Germany for foreigners, and this is sometimes referred to as sponsorship for the candidate looking for how to get jobs in Germany. Here are the types of visas that can be associated with employment sponsorship in Germany:
Employment Visa: German employers offer an employment contract to foreign candidates, which is a key document for the visa application process. The employers don't need a permit or license to hire employees from abroad, they just need to fill out some forms for the visa process.
EU Blue Card: This is a visa for highly qualified professionals who have a job contract and a set minimum annual wage from a German employer. The employer essentially sponsors the individual by providing the job contract which is a prerequisite for the EU Blue Card application.
Skilled Worker Visa: Introduced to address labor shortages, this visa category requires a job offer from a German employer, thus the employer's sponsorship in the form of a job offer is crucial. Additionally, recognized academic or occupational qualifications and German language competency are required.
Job Seeker Visa: While this visa doesn't involve sponsorship initially, obtaining a job offer (and thus sponsorship) from a German employer is the goal, as it will enable the individual to transition to an employment visa.
Residence Permit for Self-Employment: Not a sponsored visa in the traditional sense, but if you have a business partner in Germany or some other form of business support, it could be seen as a form of sponsorship.
Visa Sponsorship Process: In Germany, the visa sponsorship process is a way through which German businesses assist and sponsor people from other nations to get the required work visas and permits. This process benefits both the labor force and the nation's economy3.
German Visa Sponsorship Requirements & Documentation
Visa Application Form: A completed and signed application form for the respective type of visa you're applying for.
Passport: A valid passport with at least two blank pages for the visa stamp.
Job Contract or Offer Letter: A signed job contract or offer letter from your sponsoring employer in Germany.
Health Insurance: Proof of compulsory health insurance coverage from your German employer, valid from the date of employment.
Curriculum Vitae (CV): A detailed CV outlining your educational and professional history.
Proof of Qualifications: Diplomas, certificates, and/or other relevant documents demonstrating your qualifications for the job.
Proof of Accommodation: Evidence of where you will be staying during your time in Germany.
Financial Means: Proof of financial stability to cover your stay, if required. This could be a bank statement, sponsorship letter, or combination of financial documents.
Biometric Photos: Recent biometric passport-sized photos as per the specifications provided by the German consulate or embassy.
Visa Fee Payment Receipt: Proof of payment of the visa application fee.
Personal Cover Letter: A letter explaining the purpose and duration of your stay in Germany.
No Objection Certificate (NOC): A letter from your current employer or school/university, if applicable, stating no objection to your Germany trip.
Police Clearance Certificate: Proof of a clean criminal record.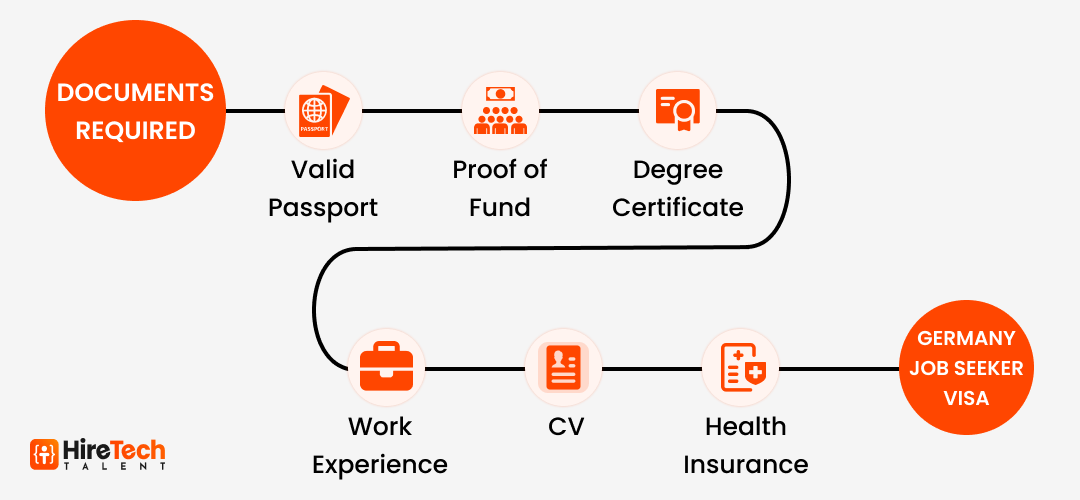 Visa Application Fees For German Visa Sponsorship
Short-term work visa (up to 90 days): Pay a fee of €60.
Long-term work visa (over 90 days): Pay a fee of €75.
Language Proficiency Requirements To Get A Job In Germany
IELTS is not required as English language proficiency is not an official requirement for work visas.
English language requirements may vary per job. Ensure to check the specific language requirements for your job role.
If your job involves international travel, ensure fluency in English.
Details To Keep In Mind While Understanding How To Get Jobs In Germany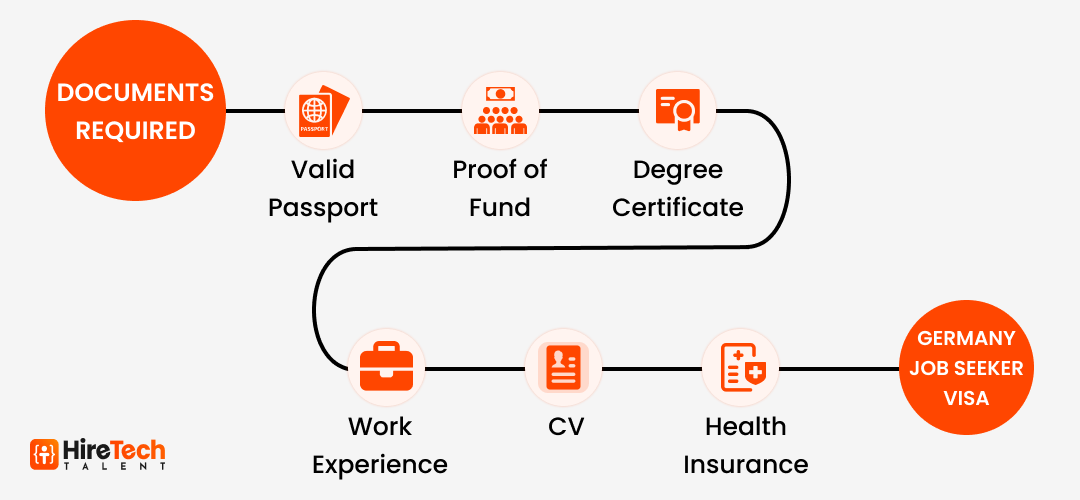 Source- www.make-it-in-germany.com
Make sure to follow each step diligently and understand how to get jobs in Germany as it is integral to the visa process. For the most accurate and up-to-date information, contacting the nearest German Consulate or Embassy is recommended.
How To Secure German Visa
Securing a visa for Germany requires careful attention to detail. In this section, we'll provide you with the essential information that will help you get answers to how to get jobs in Germany, allyou need to do is ensure a successful visa application:
Eligibility Criteria: This will include educational qualifications, job offers, and other relevant factors. Understanding these criteria is crucial to determining your eligibility.
Processing Times: Different visa categories come with varying processing times, in simple terms, allowing you to plan your move effectively. Knowing how long it takes to obtain your visa can help you make timely arrangements.
Financial Requirements: Germany has financial requirements to ensure you can support yourself during your stay. These requirements are in straightforward language, making it clear how much savings you need to demonstrate for your visa application.
Health Insurance: Comprehensive health insurance is a non-negotiable aspect of your visa application. The importance of obtaining suitable health insurance coverage will help you guide on how to fulfill this requirement.
By following these guidelines and understanding the visa essentials, you'll be well-prepared to understand how to get jobs in Germany and embark on your journey with confidence. Your dream of building a successful career in this thriving country is within reach, and we're here to help you every step of the way.
For those Indians who are considering opportunities in the UK, you may find our blog, How to get a software job in London from India – A Complete Guide, extremely helpful.
Having explored the steps to secure a German visa, let's now turn our attention to a forthcoming initiative – the German Opportunity Card. This points-based system, expected to roll out by late 2023, offers a streamlined pathway for skilled individuals from non-EU countries eyeing career prospects in Germany.
German Opportunity Card For Job Seekers
The German Opportunity Card, also known as "Chancenkarte" in German, is a new initiative by the German government to attract skilled workers from non-EU countries to Germany.
This initiative was announced in September 2022, with the aim of filling the increasing demand for skilled labor in Germany, which faces a shortage of approximately 400,000 skilled laborers every year. Here is a detailed breakdown of the German Opportunity Card:
Purpose and Design:
The Opportunity Card aims to simplify the process for candidates to find work in Germany without undergoing a lengthy recognition procedure, thus making Germany a more attractive destination for skilled international talents. This initiative significantly contributes to simplifying how to get jobs in Germany for foreign nationals.
This initiative allows non-Europeans to enter Germany for one year without a job offer, making it more flexible and offering a longer stay compared to the German Job Seeker Visa. It's a step towards making it easier how to get jobs in Germany for individuals from non-EU countries.
Eligibility Criteria:
It operates on a points-based system where candidates must score at least 6 points to be eligible. Points are awarded based on various criteria including:
Professional qualifications and their recognition in Germany.
German and English language skills.
Professional experience.
Age (with a preference for those under 35 or 40).
Duration of stay in Germany in the last five years.
Spouse or partner eligibility.
Implementation:
Although announced, the Opportunity Card is a new type of visa that is yet to be implemented. It is expected to be publicly available by late 2023, with the new immigration laws, including the Opportunity Card, becoming effective from March 2024.
Benefits:
The introduction of the Opportunity Card is expected to bridge the gap between the demand and supply of skilled workforce in Germany, allowing companies to tap into a wider pool of international talent.
Drawbacks:
There will be a cap on how many Opportunity Cards will be allocated each year, potentially leading to high competition among applicants.
The eligibility criteria might require some applicants, especially IT professionals who can secure English-speaking jobs, to learn German even if their job does not require German proficiency.
Comparison with Other Visa Types:
The Opportunity Card is compared to other visa types like the Employment Visa and Job Seeker Visa but is distinct in that it does not require a job offer for entry and provides a longer stay in Germany.
Points-based Immigration System:
This card is part of a broader effort to introduce a points-based immigration system in Germany to address the shortage of skilled workers, estimated to be more than 500,000.
The German Opportunity Card is part of a strategic approach to alleviate the skilled labor shortage in Germany and enhance the country's appeal to global talent.
How To Get Jobs In Germany- Hire Tech Talent
Hire Tech Talent– a reverse recruitment platform, is a new way of hiring that is changing how employers find job candidates. Unlike the traditional way where people look for jobs and apply, at HTT, it's the companies that look for talented people and ask them to join.
Imagine a job-hunting website, but instead of you applying for a job, companies review your skills and directly ask you if you want to work for them. They use HTT to find the right person, making sure they really understand and value what each worker can do. It's becoming a popular way to match companies and workers because it focuses on people's actual skills and talents.
It simplifies your journey in understanding how to get jobs in Germany by bridging the gap between language and opportunity, allowing you to focus on what truly matters—your skills and expertise. For further insights, check out the blog, Empowering Tech Talent: Take Control of Your Career Journey.
Take a look at this diverse package and what's in it for you-
Benefits & Features
Direct Outreach: Say goodbye to the fatigue of sending out countless applications. If a company likes what they see, they'll approach you.
Tailored Matches: With Hire Tech Talent, you're not thrown into a vast ocean. You're placed in a selective pool where companies are looking specifically for what you offer.
Transparency: No guesswork. You get a crisp picture of the job role, expectations, and the ambiance of the company from the get-go.
Sounds tempting? Here's how I can go from registering as a talent to relocating to Germany.
How To Get Jobs In Germany: 5 Easy Steps With Hire Tech Talent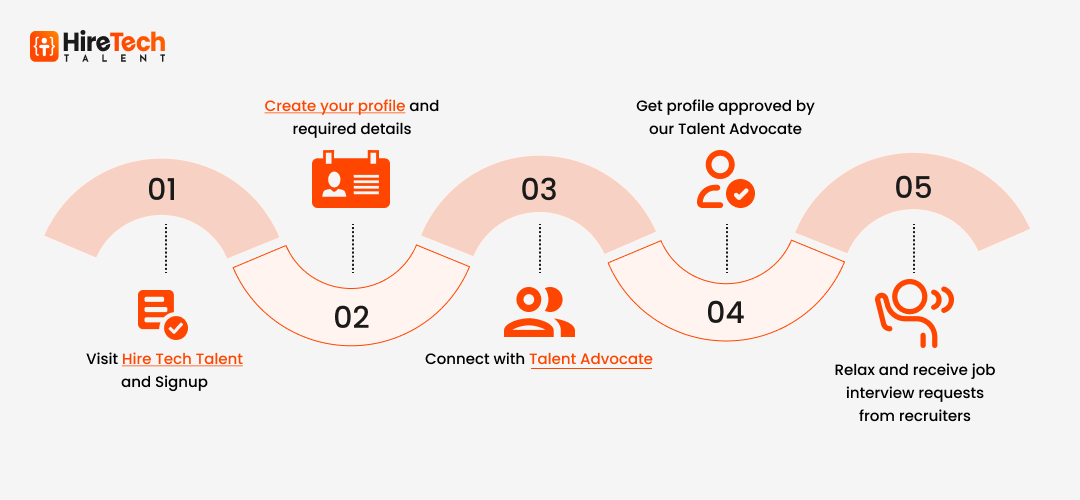 Remember that success in Germany's job market is within your reach, but it requires dedication, careful planning, and access to the right resources.
We've explored the various visa options and provided step-by-step application guides, ensuring that you have a clear roadmap on how to get jobs in Germany and secure your place in Germany's thriving workforce. Whether you aspire to make use of the Blue Card or embark on your journey with a Job Seeker Visa, you are now equipped with the knowledge to make informed decisions.
We invite you to seize the opportunities that Germany offers with Hire Tech Talent as this is your first step towards answering how to get jobs in Germany.
Contact us to simplify your job search and embark on a path filled with career growth, innovation, and research. Your career in Germany starts now; take that first step towards a brighter future.