London: a city with a rich history, home to the British monarchy, and an iconic global landmark.
But did you know it's also rapidly becoming the digital epicenter of Europe?
The UK's tech sector is growing at a rate 2.6 times faster than its overall economy. Now, why is this stat crucial for someone looking to get software job in London from India
Firstly, this staggering growth rate signifies the increasing demand for tech talent in London. It's not just about historical architecture or the grandeur of the Thames; it's about a city reinventing itself in the age of digital transformation.
For software engineers, this translates to a plethora of job opportunities, state-of-the-art tech hubs, and exposure to a global work environment.
Secondly, the rapid expansion of the tech sector in London is proof of the increasing investment and confidence of major enterprises in the city's potential. Companies, big and small, are setting up their bases, research wings, and innovation cells here.
Lastly, for professionals from India to get software job in London from India, this growth rate can be seen as a beckoning call. As the tech scene in India continues its upward trajectory, the UK's accelerated growth rate offers a fresh perspective, broader exposure, and an international platform to showcase one's skills.
In this guide, we'll delve deep into why London is the hotbed for tech opportunities, how you, whether a fresher or an experienced professional, can leverage this growth, and get software job in London from India.
Why Do Software Engineers Choose London Over India?
When you think of London, you might imagine the iconic Big Ben, the River Thames, or perhaps the historic lanes of the city. But in the corridors of global technology, London shines as a beacon of innovation and progress. The city is home to countless tech startups, incubators, and giants, placing it firmly on the map as Europe's leading tech hub. It's a landscape teeming with innovation, collaboration, and boundless opportunities.
India, without a doubt, is a powerhouse when it comes to IT and software solutions. Cities like Bengaluru, Hyderabad, and Pune have long been recognized as IT hubs. So, why are tech talents considered to get software job in London from India?
Global Exposure:Working in London provides professionals with a chance to be part of a global tech ecosystem, directly interacting with a diverse clientele and a multinational workforce.
Innovative Work Environment:London's tech scene is not just vast but varied, covering everything from fintech and AI to game design and cybersecurity. This allows tech professionals to specialize or diversify their career paths, depending on their interests.
Networking Opportunities: Events, tech fests, and seminars are frequent, allowing individuals to grow their professional network, meet industry leaders, and gain insights into the latest global tech trends.
Professional Growth: Many global tech companies have their European headquarters or significant offices in London, providing employees with ample career progression opportunities and training programs.
To sum it up, while India offers a robust tech environment, London adds the cherry on top with its unique blend of global opportunities, work culture, and professional growth. The city's call is loud and clear: If you want to get software job in London from India, thenyou are on the right track to growth.
What Are The Popular Tech Roles In London?
London's technology ecosystem thrives on innovation. Fresh graduates, brimming with contemporary knowledge and untouched enthusiasm, are the lifeblood of this constant evolution. Companies, be they startups or tech giants, are always on the lookout for young minds who bring fresh perspectives and are unafraid to challenge the status quo. If you're eager to get software job in London from India, here are some tips to kickstart your international career.
Software Development: As a newbie, this is your bread and butter. Companies often seek fresh graduates for development roles as they are adaptable and can be molded as per the company's tech stack.
QA Testing:Quality assurance is vital. Fresh eyes often notice glitches that seasoned professionals might overlook.
Tech Support:This role allows freshers to understand the user's perspective, which can be invaluable as they progress in their career.
Data Analysis:With businesses now heavily reliant on data, entry-level roles in data analysis are booming. Freshers get to work on real-world data sets, interpreting them and providing actionable insights.
A Glimpse Of Potential Software Development Companies In London
Source: www.hindustantimes.com
In essence, London is not just for the experienced. It's a city that believes in nurturing talent from the ground up. If you're at the onset of your tech journey, London's doors are wide open for you.
How To Get Software Job In London From India
Hire Tech Talent: Your Direct Connection to London's Best

Before diving into the traditional methods, it's essential to recognize the power of platforms like Hire Tech Talent to get software job in London from India. As a reverse recruitment platform, HTT flips the hiring process. Instead of you chasing employers, they come to you. All you need to do is create a comprehensive profile showcasing your skills and experiences. London's top tech companies are on the lookout for HTT, ready to make their move if your profile aligns with their requirements.

Tech Jobs Fair: The Global Hiring Festival

Following HTT, there's the Tech Jobs Fair – a global tech-centric job fair that sees participation from companies across continents, including London. This platform offers events where you can interact with potential employers that will definitely help you get software job in London from India.

The Classic Route: Resumes and Portfolios

Your resume is your first impression that will help you get software job in London from India. Tailor it to highlight projects and courses relevant to the job you're applying for. Even if you're a fresher, your academic projects, hackathons, or any freelance work can make you stand out. London employers appreciate precision; hence, ensure your CV is concise, updated, and free of jargon. For roles like web development or UI/UX design, having a digital portfolio can elevate your chances manifold.

Networking: A Game Changer

Believe it or not, sometimes it's about 'who you know'. Attend seminars, webinars, and workshops to look for people who will help you get software job in London from India. Sites like Meetup.com host multiple tech meetups in London. Virtual networking during these times can also work wonders. LinkedIn is a powerful tool. Connect with professionals in your desired domain, engage with their content, and don't hesitate to reach out for advice or potential opportunities.

Recruitment Agencies: The Middlemen Worth Considering

London has a myriad of recruitment agencies that specialize in tech roles. Registering with them can make your job hunt smoother. They have insights into what employers seek and can connect you to roles that often aren't advertised publicly.

Internships: Your Foot in the Door

Many companies in London offer internship programs. It's a win-win: companies gauge potential future employees, and you get a taste of the London tech scene, along with invaluable experience.

Higher Education: A Two-Pronged Benefit

Considering a master's or another degree in London? It's not just about education. Universities often have tie-ups with local businesses and can offer placement opportunities. Plus, studying there can give you an initial network to leverage.

Freelancing Platforms: Showcase Your Skills

Websites like Upwork, Freelancer, or Toptal will help you get software job in London from India. It's an excellent way to showcase your skills, earn, and build a global portfolio simultaneously.

Remember, the aim is to be visible and make genuine connections.
How Much Do Software Engineers Earn In the UK
For software engineers, London is a goldmine. On average, a software engineer job in London pays you around £45,000 to £90,000 annually, depending on experience and expertise.
For senior roles or those in niche technologies, the pay can go significantly higher. In comparison, while India offers competitive salaries in the tech world, the difference in currency value and the international market standard makes London's offering more lucrative.
Software Engineer Salary in the UK vs India (per month)
The tech industry, globally known for its perks, does not disappoint in London. As you look to get software job in London from India you also have to consider how much is the basic salary. Many tech companies offer benefits like health insurance, retirement plans, stock options, flexible working hours, and opportunities for further learning and certifications.
In some instances, companies even provide relocation allowances, ensuring your move is as smooth as possible.
Comparison Table: Salary Spectrum
| Job Role | Average Salary in India (INR) | Average Salary in London (£) |
| --- | --- | --- |
| Entry Level Engineer | 4 – 7 lakhs | £30,000 – £45,000 |
| Mid-Level Engineer | 10 – 20 lakhs | £50,000 – £60,000 |
| Senior Software Engineer | 20 – 30+ lakhs | £65,500 – £90,000+ |
Source: www.upgradabroad.com
Note: The above figures are indicative and may vary based on the exact role, company, and changing market conditions.
How To Get There- Different Types of UK Visas from India
Work & Business Visas
Tier 2 (General) Visa:Designed for skilled foreign workers with job offers in shortage areas.
Tier 2 (Intra-company Transfer) Visa:For employees transferring within their company.
Tier 2 (Sportsperson) Visa:Aimed at sports professionals.
Tier 2 (Minister of Religion) Visa:For religious workers.
Tier 5 (Temporary Worker) Visa:Suitable for temporary foreign workers.
Tier 5 (Youth Mobility Scheme) Visa:Targeted at youth mobility programs.
Business Visas:Including the Tier 1 Entrepreneur Visa, Tier 1 Graduate Entrepreneur Visa, and Tier 1 Investor Visa.
Student Visas
Tier 4 (Child) Student Visa:Applicable to students under the age of 18.
Tier 4 (General) Student Visa:For adult students pursuing higher education in the UK.
Short-Term Study Visa:Suitable for short-term study programs.
Tourist and Visiting Visas
UK Visitor Visa:Ideal for those planning a tourist visit or a short stay in the UK.
Short-term Study Visa:Designed for individuals looking to engage in short-term studies in the UK.
Permitted Paid Engagement Visa:Suitable for those participating in paid engagements during their visit.
Parent of a Tier 4 (Child) Student Visa:Intended for parents accompanying Tier 4 (Child) students.
Marriage Visitor Visa:For individuals planning to get married in the UK.
These visas typically have a maximum validity of 6 months.
Family Visas
UK Spouse Visa:For those looking to join their spouse in the UK.
UK Parent Visa: Intended for parents seeking to reunite with their children in the UK.
UK Child Visa:Designed for children wishing to join their parents in the UK.
Transit Visas
Direct Airside Transit Visa (DATV): Essential for travelers using the UK as a transit point.
Visitor in Transit Visa: Ideal for those with regular transit needs.
Visa Application Fees
| UK Visa | Application fee |
| --- | --- |
| Partner/spouse visa | £1,846 |
| Innovator Founder visa | £1,191 |
| Global Business Mobility – Senior or Specialist Worker – more than 03 years | £1,420 |
| Global Business Mobility – Senior or Specialist Worker – less than 03 years | £719 |
| Skilled Worker visa – shortage occupation, less than 03 years | £551 |
| Skilled Worker – shortage occupation, more than 03 years | £1,084 |
| Health and Care visa, less than 03 years | £247 |
| Health and Care visa, more than 03 years | £479 |
| Student visa | £490 |
| Youth Mobility Scheme visa | £298 |
| Visitor visa (6 months or less) | £115 |
| Visitor visa (2 years) | £400 |
Source-www.sableinternational.com
Different Types of UK Visas for Indians and Their Validity
| Visa Type | Validity |
| --- | --- |
| Standard Visitor Visa | 6 months |
| Standard Visitor Visa (Medical Reasons) | 11 months |
| Standard Visitor Visa (Education) | 12 months |
| Long Term 2-year Standard Visitor Visa | 6 months on every visit |
| Long Term 5-year Standard Visitor Visa | 6 months on every visit |
| Long Term 10-year Standard Visitor Visa | 6 months on every visit |
Documents Required Get a Visa For the UK From India
Documents Needed for a UK Transit Visitor Visa
Currently Valid Passport: Your passport should be valid for the duration of your stay in the UK.
Confirmed Travel Booking:Provide proof of your travel plans, including flight reservations or itineraries.
Document Evidence of the Final Destination Country:If you're transiting through the UK to reach another country, have documents that confirm your entry into your final destination.
Visa/Green Card/Residence Permit for the Final Destination Country:Ensure you have the necessary permits or visas for your ultimate destination.
Documents Needed for a UK Study Visa
Currently Valid Passport: Make sure your passport is valid for the entirety of your planned stay.
Documents Supporting Your Education History:Include academic transcripts, certificates, and diplomas that demonstrate your educational background.
Document Evidence of Accommodation in the United Kingdom:Provide proof of your intended place of residence in the UK, such as a housing contract or accommodation booking.
Document Evidence of Financial Stability:Show that you have sufficient funds to cover your tuition fees and living expenses while in the UK.
English Language Proficiency Certificate:If required, present an English language proficiency certificate, such as IELTS or TOEFL score.
Report of the Tuberculosis Test:Some applicants may need to undergo a tuberculosis test and provide the relevant medical report.
Document Evidence of the Sponsor's Financial Status and Occupation (if applicable):If you have a sponsor, include documents that prove their financial ability to support your studies.
Legal Guardian's or Parent's Consent Letter (for a Minor Applicant):If you're a minor, include a consent letter from your legal guardian or parent.
Documents Needed for a UK Work Visa
Currently Valid Passport:Ensure your passport has a validity that covers your intended work period in the UK.
Previously Issued Passports (if available): Include any previous passports to establish your travel history.
Applicant's Sponsorship Certificate Credential: Provide documentation related to your job offer or sponsorship in the UK.
Report of the Applicant's Tuberculosis Test: If required, submit a tuberculosis test report.
English Language Proficiency Certificate:Include proof of your language skills if it's a requirement for your visa category.
Financial Stability Proof: Demonstrate your ability to support yourself financially during your stay.
Criminal Conviction Report (if applicable): If you have a criminal record, be prepared to provide relevant documentation.
Documents Needed for a UK Family Visa
Currently Valid Passport: Ensure your passport has sufficient validity for your intended stay.
Previously Issued Passports (if available): Include any past passports to establish your immigration history.
Details of Any Immigration Application Submitted Previously: Mention any previous visa or immigration applications you've submitted.
Financial Stability Proof: Demonstrate your financial capacity to support yourself and your family in the UK.
English Language Proficiency Proof: Include language proficiency evidence if it's a visa requirement.
Evidence of Having an Accommodation in the United Kingdom: Provide documentation that confirms your intended place of residence in the UK.
Cost Of Living In London Per Month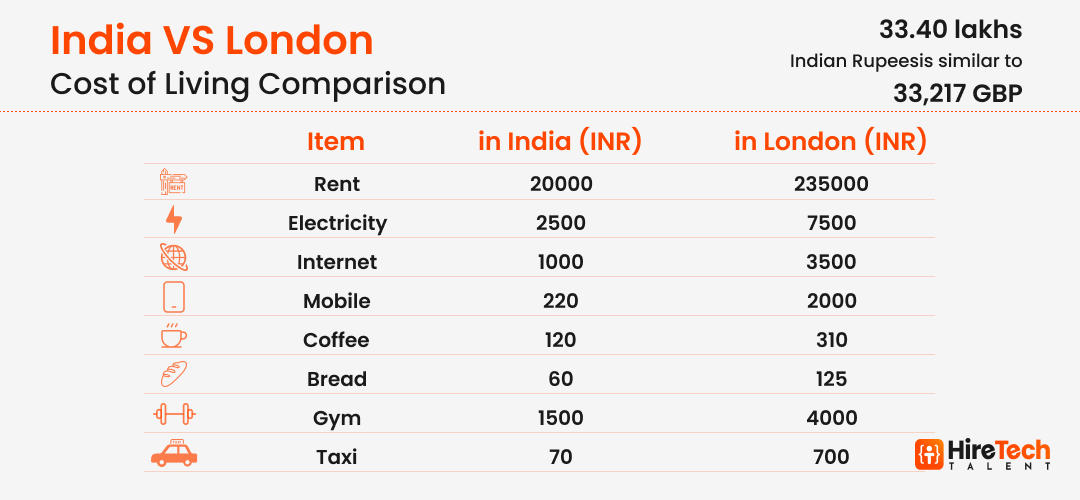 Link: www.collegedunia.com
Adapting To A New Culture
While the tech community is global in its outlook and operation, there will still be cultural nuances to navigate:
Communication Styles: British people are known for their politeness. It might take some time to understand the indirect ways of expressing disagreement or refusal.
Networking: Brits love their after-work pub culture. These informal gatherings are not just for fun but also great networking opportunities.
Weather Talk: Talking about the weather isn't just small talk in the UK. It's a national pastime! So, brace yourself for unpredictable weather and equally unpredictable conversations about it.
Making Your Mark With The Right Platforms: Hire Tech Talent
Navigating through the job market in a new country can be challenging, but certain platforms are designed to make your job search efficient and straightforward. Here, we spotlight two major avenues that can help you land that dream job in London.
Hire Tech Talent: A Platform To Find Tech Jobs In London
HTT is not just another job portal; it's a reverse recruitment platform. What does that mean for you? Instead of you seeking out employers, they seek you! Here's how it simplifies the process for jobseekers:
Personalized Experience: Create your profile, specifying your skills, experiences, and preferences. This ensures that you're visible to employers looking for your unique skill set.
Support System: Engage with a talent advocate who guides you through the recruitment process, giving you insights into the London tech scene and ensuring your profile stands out.
No CV, No PDF: Once your profile is approved, get direct interview invitations from top tech companies in London. Say goodbye to sending out dozens of applications and waiting endlessly for replies.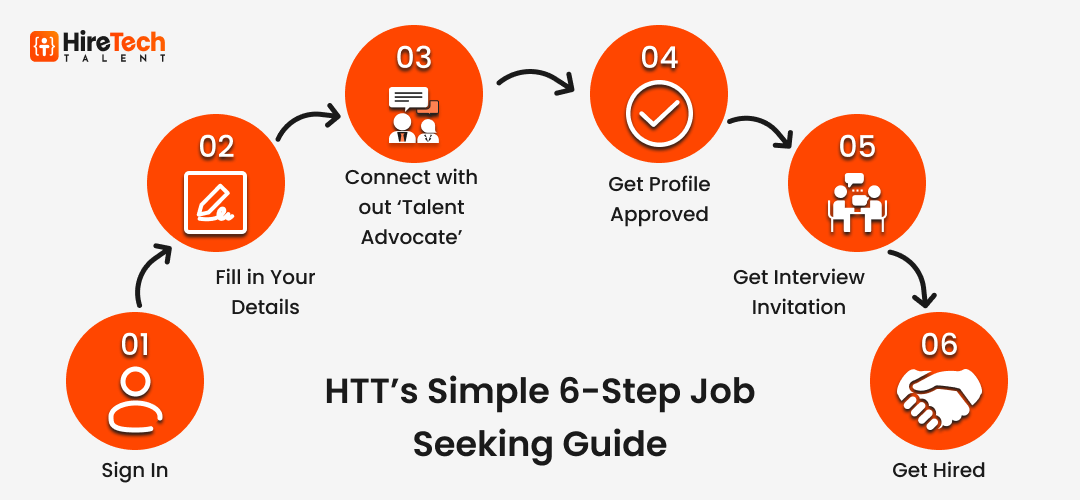 If you are also looking for IT jobs in Germany, then Hire Tech Talent is your helping hand. Read our blog How to get IT job in Germany from India 2023 – A complete Guide and get a complete understanding from pin to plain.
Remember, platforms like HTT provide a direct and efficient route to get software job in London from India. Real-world interactions at the Tech Job Fair can significantly broaden your horizons and increase your chances.
To get software job in London from India might seem overwhelming at first, but as you've seen, with the right guidance and tools at your disposal, the path becomes clearer.
The tech scene in London awaits enthusiastic individuals ready to make their mark, and while there's much to consider – from job search strategies to relocation logistics – you're not alone in this journey. Armed to help you get software job in London from India with the insights from this guide and the unparalleled support of platforms like Hire Tech Talent. Contact Us to start your career in London Today!