Navigating the German job market can be both an exciting and daunting endeavor.
The key to a fruitful job search lies in knowing where to look. Online job portals have become the cornerstone of job searching, offering a convenient platform for employers and potential employees to connect.
In this guide, we explore the top 5 job portals in Germany. We'll delve into each portal's core features, user experience, and job listing variety to provide a comprehensive understanding, aiding you in your job search journey in Germany.
Embark on this informative journey as we unravel the potential of each job portal and provide a roadmap to your job-searching endeavor in Germany.
Top 05 Job Portals in Germany for Tech Professionals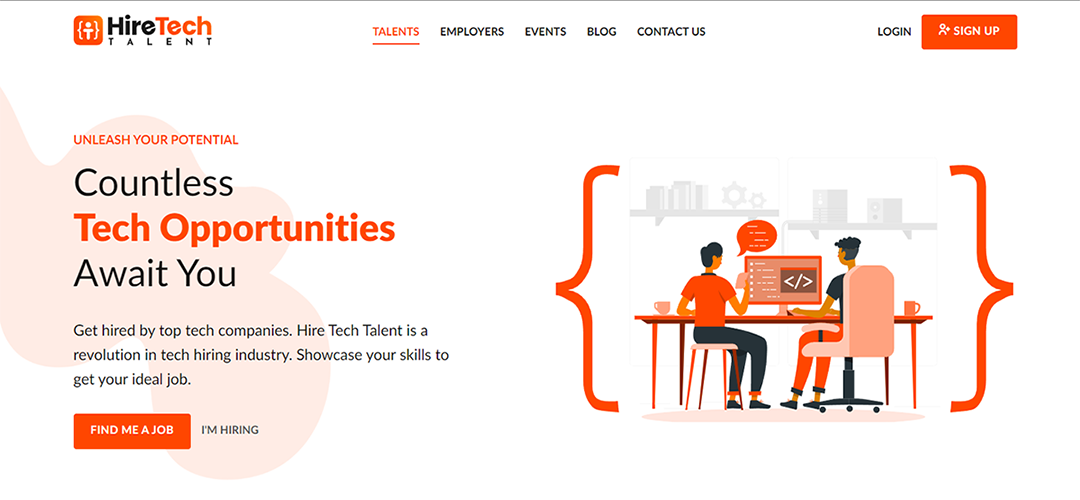 In the spectrum of job portals in Germany, Hire Tech Talent (HTT) emerged as a digital nexus connecting tech individuals with seeking companies.
Its uniqueness is in its "reverse recruitment" approach, where instead of job seekers reaching out with resumes, companies scout through profiles on HTT, extending interview invitations to potential candidates.
As this digital platform flourished, the narrative evolved with the birth of Tech Jobs Fair (TJF) in Berlin, in 2017. Hire Tech Talent organizes physical job fairs for tech professionals under the brand name Tech Jobs Fair.
Unlike the virtual browsing on HTT, Tech Jobs Fair hosts in-person events where companies and job seekers can interact face-to-face. It's a grand fair fostering human interactions, extending beyond job hunting to learning and networking opportunities.
The synergy between HTT and TJF is seamless. While HTT orchestrates the digital interaction, TJF brings in the rhythm of personal engagement.
Moreover, events organized by TJF are accessible through the HTT platform, allowing an interplay between the digital and physical realms of recruitment.
Together, HTT and TJF not only enrich the job portals in Germany but create a holistic recruitment ecosystem. It's a tale where digital profiles meet real faces, and job opportunities meet earnest discussions, creating a harmonious narrative in Germany's tech recruitment landscape.
Key Features:
Accessibility to Events: The synergy between HTT and TJF allows users to access TJF events through the HTT platform, bridging the gap between online and offline recruitment experiences.
Wide Range of Participants: With over 500+ companies participating, TJF offers a broad spectrum of job opportunities and company cultures.
Job Hunting Support: HTT offers support throughout the job hunting journey, assisting with job searches, interviews, and job offer evaluations.
Profile Review: A dedicated team reviews each profile to ensure authenticity and alignment with job listings, fostering trust within the platform.
Live Interaction: The face-to-face interaction at TJF provides a personal touch to the recruitment process, allowing for direct communication between job seekers and recruiters.
Effortless Job Posting: The platforms provide a seamless process for employers to post job openings, making it a hassle-free experience to reach potential candidates.
If you want to know more about Hire Tech Talent and how it's unique approach is changing the recruitment industry, read our blog- Hire Tech Talent vs. Traditional Tech Job Boards: A Contrast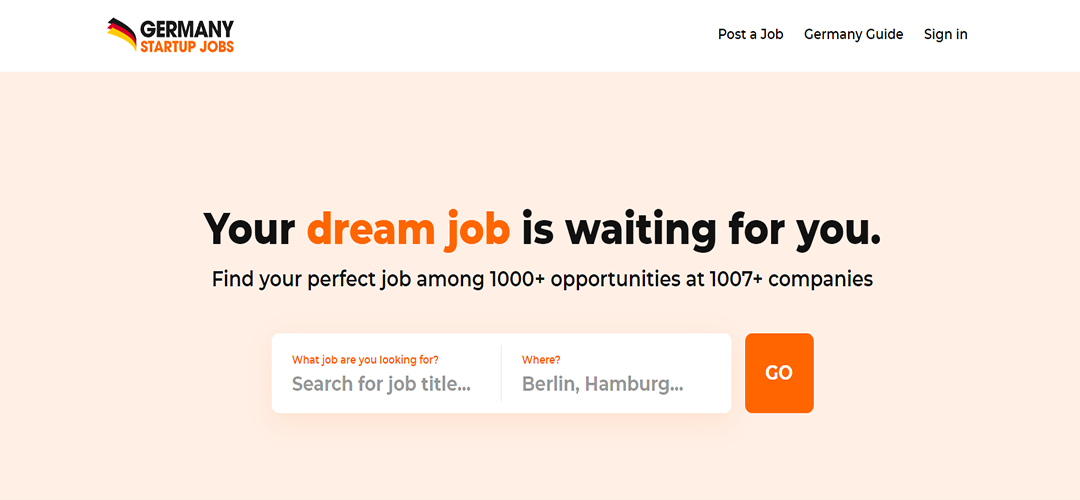 Germany Startup Jobs is one of the job portals in Germany that is designed to bring together innovative startup companies and top talents in the country. The portal began with the idea of creating a simple space where employers and job seekers could easily find each other and match their needs.
The process of German startup Jobs is quite simple. If you are an employer, you can post your job to many job groups and a strong social media network with just one click, helping you find the exact talent you've always wanted.
Similarly, if you are a job seeker, you just need to search, find a job you like, and apply. It's all made to be hassle-free, making it a standout platform among the job portals in Germany and a competitor for the best job website in Germany for those interested in the startup scene.
User Experience:
On Germany Startup Jobs, you can look for your dream job among a wide range of opportunities. You just need to enter the type of job you are looking for and where then hit the 'Go' button to see the available jobs.
It's designed to be straightforward and easy to use, making your job hunt less stressful.
Key Features:
Targeted Reach: Germany Startup Jobs extends its reach across social media, mobile, and various job sites in Germany to connect with potential candidates, ensuring that employers can find the right talent effortlessly.
Startup-Centric Platform: The platform is tailored to meet the needs of startups, aiming to connect Germany's innovative startup companies with top talents.
Job Alerts: The platform utilizes smart algorithms and robust search filters to deliver the most relevant job alerts via email whenever new job listings matching your search are posted.
Hassle-Free Matching Process: The platform is designed to effortlessly match the requirements of both employers and job seekers with a single-step process.
User-Friendly Interface: The platform likely has a user-friendly interface, making the job search, and job posting process seamless for both job seekers and employers.
Direct Engagement: The platform facilitates direct engagement between startups and job seekers, streamlining the recruitment process.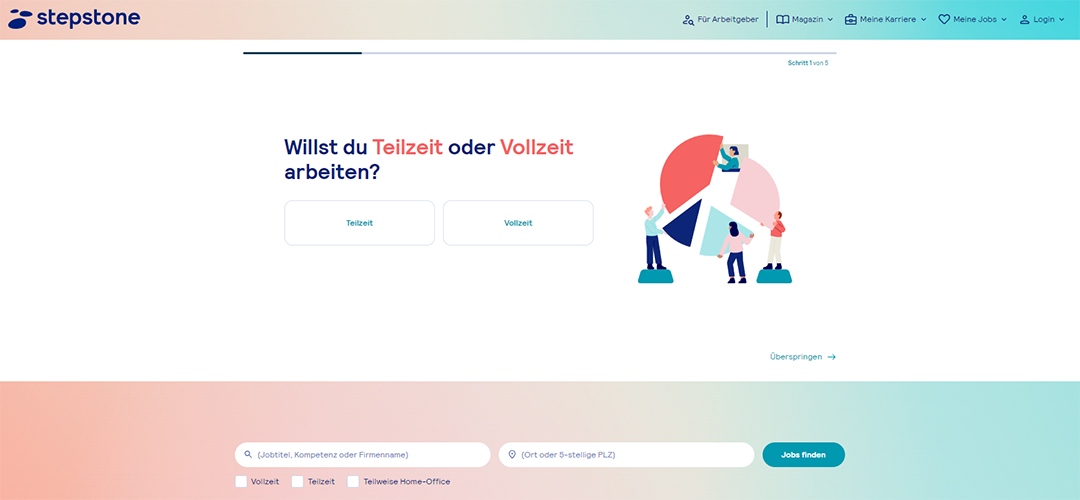 StepStone.de is a leading platform among the job portals in Germany, offering a wide array of job opportunities across various fields like engineering, IT, sales, and more. It's a place where people looking for jobs and companies looking for employees can find each other.
StepStone.de keeps the job search process simple. You search for the job you want, find listings that match, and apply to the ones you like.
On the other hand, if you're an employer, you post your job openings and wait for interested candidates to apply. This simplicity and ease of use make StepStone.de one of the notable job portals in Germany and a strong candidate for the title of the best job website in Germany
User Experience:
The website is straightforward. You type in the kind of job you're looking for and the city, and it shows you the matching job offers. It's that simple!
Key Features:
Many Job Listings: There are thousands of job listings from different fields, so you have a good chance of finding a job that fits your skills.
Job Alerts: You can set up email notifications for new job postings that match your search.
User-Friendly Interface: A well-designed, intuitive interface that allows users to easily navigate through the platform, search for jobs, and post job listings.
Resume Builder: Tools and templates to help users create professional resumes and cover letters.
Company Profiles: Detailed profiles of companies listing job openings, providing insights into the company culture, values, and other relevant information.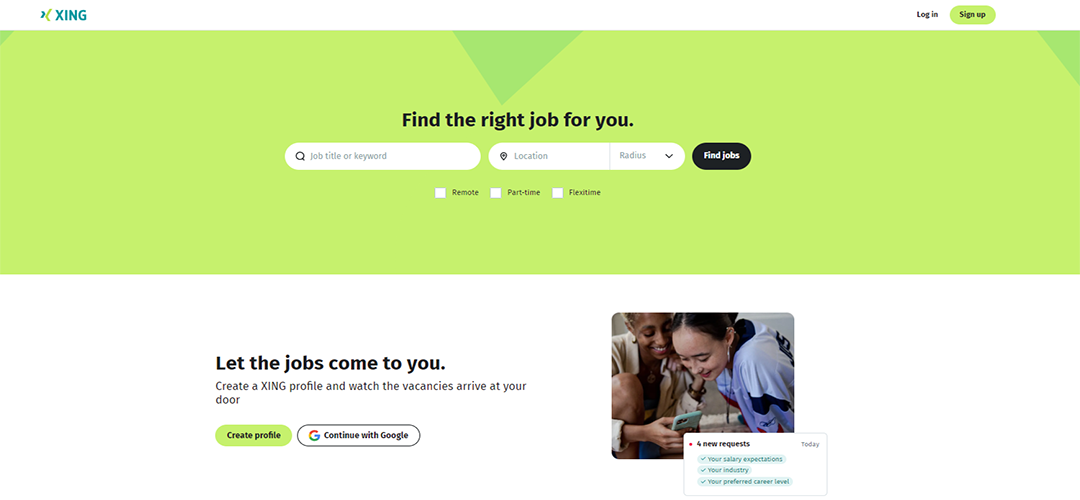 XING is one of the well-recognized job portals in Germany that aims to connect job seekers with employers. It's a platform where professionals from various industries can create a profile, showcase their skills, and get in touch with recruiters and companies.
On XING, the job-hunting process is simplified. You create a profile, and then either look for jobs that suit your skills or wait for employers to find you. It's a more relaxed way of job hunting compared to sending out numerous resumes. This ease of job hunting makes XING stand out among the job portals in Germany, positioning it as a strong contender for the title of the best job website in Germany for those who prefer a less stressful job search experience.
User Experience:
Creating a profile on XING is straightforward. Once your profile is set up, job vacancies can come knocking at your door. You just need to sit back and watch as employers reach out to you with job offers.
The platform also provides helpful tips for job searching and applying, making the process easier for job seekers.
Key Features:
Job Search Guidance: XING offers professional advice to help you in your job search, providing a more supportive job hunting experience.
Career Advice and Resources: Articles, blog posts, and other resources offering career advice, industry trends, and tips for job seekers and employers.
Search Filters: Enables users to refine their job search based on various criteria such as location, job type, salary range, company type, etc.
Employer Reviews Reviews and ratings of employers by current or former employees, providing insights into the work environment and employer reputation.
Customizable Notifications: Allows users to customize the frequency and type of notifications they receive.
Wide Reach: Although primarily a job board in Germany, Arbeitnow extends its services to other regions including the UK, Australia, and the US, broadening the scope of opportunities for job seekers and employers alike.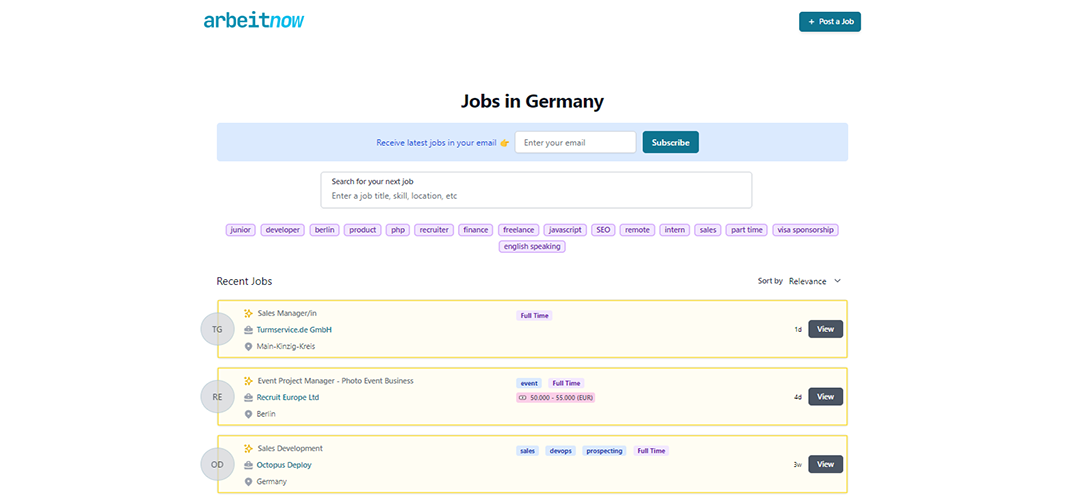 Arbeitnow is one of the job portals in Germany that was created to simplify the job searching process. The creator, Adithya, designed it out of personal necessity when he found other job boards requiring too much personal data and multiple profile updates before even applying for jobs.
His experience as a software engineer led him to develop a platform that makes job hunting less cumbersome.
User Experience:
The platform is designed to be user-friendly with an easy keyword-based job search feature. Job seekers can type in keywords related to the positions they are interested in, and also use tags to filter jobs further, making it a straightforward platform for finding relevant job opportunities.
Key Features:
Diverse Job Listings: Unlike some specialized job portals in Germany, Arbeitnow provides job listings from various sectors, not just tech, making it a more versatile platform.
No Mandatory Registrations: Users are not bombarded with registration popups, which is a relief for those who just want to browse jobs without any commitments.
Additional Tools for Expats: Beyond just job listings, the platform provides salary calculators for Germany and the Netherlands, and a sick pay calculator, assisting individuals with financial estimations.
Resourceful Blog: A blog section with articles addressing common concerns and providing useful information for job seekers in Germany.
Free and Premium Job Posting Options: Employers have the flexibility to choose between free and premium job posting options, catering to different budget capacities.
Criteria for Choosing the Right Job Portals in Germany
| Criteria | Description | Why It's Important |
| --- | --- | --- |
| User Interface | Is the platform easy to navigate? Is the design intuitive? | A user-friendly interface makes your job search experience smoother. |
| Job Listings | Are there a variety of job listings in your field? How frequently are new jobs posted? | More listings increase your chances of finding the right job. |
| Industry Focus | Does the platform cater to your industry? Are reputable companies in your field actively using the portal? | A focused platform can have better job matches in your field. |
| Pricing | Is the platform free or paid? If paid, what services are included in the fee? | A Understanding the cost can help you budget your job search. |
| Networking Opportunities | Can you connect with employers and other professionals? Is there a community aspect? | Networking can open doors to unadvertised job opportunities. |
| Learning Resources | Are there resources, webinars, or blogs available to help you in your job search or career development? | Continuous learning can enhance your job search and career growth. |
| Profile Customization | How detailed can your profile be? Can you showcase your skills, experiences, and portfolio? | A well-presented profile can attract more and better job offers. |
| Job Alert Features | Can you set up job alerts for new postings that match your criteria? | Job alerts ensure you don't miss out on new opportunities. |
| Review and Ratings | Are there reviews or ratings available for employers? | Reviews can give insight into the company culture and expectations. |
| Support and Guidance | Is there support available for job seekers? Are there guides or FAQs to help you use the platform? | Having support can help resolve any issues quickly during your search. |
| Accessibility | Is the platform accessible on various devices like mobile, tablet, and desktop? | Accessibility ensures you can search for jobs anytime, anywhere. |
| Privacy Controls | Can you control who sees your profile and personal information? | Privacy controls protect your information and control who can contact you. |
The dynamic landscape of Germany's tech job market is well-reflected through the diverse functionalities of these top job portals in Germany.
Each platform, with its unique offerings, serves as a gateway to a realm of opportunities waiting to be explored by tech professionals and recruiters alike.
Among them, Hire Tech Talent distinctively stands out with its reverse recruitment platform, seamlessly bridging the gap between tech aficionados and innovative companies. As the digital frontier expands, aligning with a platform like Hire Tech Talent can significantly elevate your recruitment or job search experience.
Embark on a transformative recruitment journey by opting for a reverse recruitment platform. Register with us at Hire Tech Talent and redefine your recruitment horizons.