27 days! That's the average time tech companies take to hire a candidate.
In a world where things change quickly, waiting nearly a month can feel like forever. But what if there was a faster, smarter way to match tech jobs with the right people, provided by the best place to hire tech talent?
It's a vast digital landscape out there, overflowing with tech professionals eager to make their mark. And in another corner, countless companies, both startups and tech giants alike, are on a never-ending hunt for that ideal candidate.
Yet, more often than not, these eager professionals and searching companies just don't find each other. This mismatch doesn't just slow things down; it makes talents miss out on great opportunities and companies lose potential stars.
Now, let's shake things up a bit. What if instead of talents chasing job offers, companies could chase the talent? That's the idea behind reverse recruitment.
Reverse recruitment is not about waiting for opportunities; it's about opportunities waiting for you. It's about flipping the traditional hiring process on its head with the help of the best place to hire tech talent. This change is a platform where tech talents are in the spotlight, and companies come to them.
Dive in and explore how we're changing the tech recruitment game by demonstrating how Hire Tech Talent is helping recruiters.
Facing The Challenges
Behind every thriving tech hub in the world lies a number, a statistic that often goes unnoticed.
Did you know- that the global tech industry is projected to grow by 5% in the coming year? Yet, a staggering 45% of tech companies report they struggle to fill essential roles.
It is an irony – a world bursting with innovation, yet hidden by gaps in the very foundation of its growth: the hiring process.
This difference isn't just about missed business goals. It speaks to the heart of missed opportunities, dreams deferred, and visions postponed.
1. Global Tech Recruitment by Numbers
The Talent Shortage Crisis:

While there's an annual tech industry growth of 5%, there's a staggering talent mismatch leading to 60,000 unfilled positions globally. Projections indicate this gap may widen by another 10% in the coming two years.

Rising Cost of Hiring:

With the talent crunch deepening, the average cost-per-hire in tech roles has seen a rise of 15% over the past year.

Duration Dilemma:

Companies are now taking an average of 27 days to Hire Tech Talent, up from 23 days two years ago, reflecting the challenges of finding the right fit.
Given this backdrop of staggering growth yet concerning differences in the tech sector, it's crucial to delve into the tangible challenges companies wrestle with. The numbers tell a story, but the real-world implications give depth to the narrative.
2. Common Problems Companies Face
Skill Mismatch:

Over 40% of tech companies find that candidates, although qualified on paper, lack the specific skills required for the role during interviews.

High Turnover Rates:

The tech industry has one of the highest turnover rates at around 13.2%. This not only speaks to recruitment challenges but retention issues as well.

Diverse Tech Requirements:

Firms specializing in emerging technologies like quantum computing or AI face a 35% longer hiring process, given the niche skill sets required.

Geographic Limitations:

Companies located outside of major tech hubs often struggle more, with a 20% lower success rate in filling positions compared to those in tech-centric cities.

Budget Constraints:

Especially for startups and SMEs, offering competitive salaries to impress top talent while managing budgets is a delicate balance, leading to prolonged negotiations and delayed hiring.
While the traditional recruitment process has served us for years, we are now entering a period of evolution and refinement.
Entering The Solution- How Hire Tech Talent Is Helping Recruiters
As the global tech industry burgeons, both companies and talents feel the pinch of a system that often results in missed connections and prolonged vacancies, despite how Hire Tech Talent is helping recruiters.
What if there's a way to flip the script? To innovate in this space? Enter reverse recruitment – a fresh take on matching tech talent with their dream roles, with the assistance of Hire Tech Talent.
Here is a small comparison between the traditional and reverse recruitment process for you to decide better. This will give you a better idea on how Hire Tech Talent is helping recruiters and talents find their perfect match.
| Criteria | Traditional Recruitment | Reverse Recruitment |
| --- | --- | --- |
| Approach | Waits for candidates to apply | Companies approach suitable candidates |
| Time to Hire | Often delayed due to large pools of applicants | Streamlined, leading to quicker hiring |
| Candidate Quality | Varies, with a potential mismatch in qualifications | Higher, as profiles are curated and pre-screened |
| Engagement | Relies on candidates' continued interest | Engages and retains the candidate's attention |
| Flexibility | Fixed structures, less personalized | Adaptive- based on candidate preferences |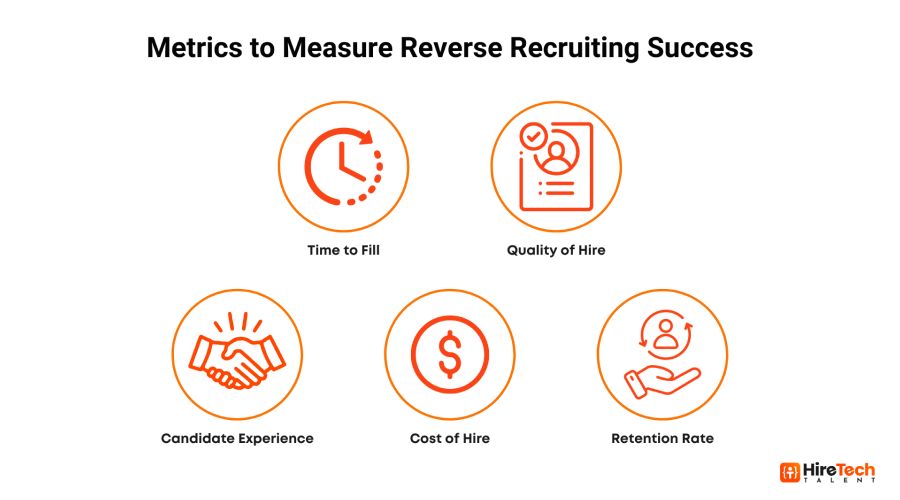 But why choose 'Hire Tech Talent'?
Beyond its revolutionary reverse recruitment model, 'Hire Tech Talent' is a platform that genuinely understands the modern tech landscape. Its innovative approach is transforming the way companies connect with top-tier tech talent, and this is how Hire Tech Talent is helping recruiters find the perfect match.
We offer a space where candidates are more than just a resume; there are countless opportunities waiting to be discovered, thanks to the assistance of Hire Tech Talent, the best tech hiring platform. How Hire Tech Talent is helping recruiters? Companies can actively scout, ensuring they're always in touch with the best, most relevant talent out there.
How Hire Tech Talent is Helping Recruiters-
Direct Opportunities-

With Hire Tech Talent, job seekers don't apply, companies approach them based on their skills and experience.

Flexibility in Hiring-

Whether you want to work remotely or be present in an office, we serve both remote and on-site job listings.

Full Hiring Cycle-

Hire Tech Talent is your one-stop-shop, aiding in everything from candidate search, and interviews, to job offers.

Diverse Talent Database-

Our platform includes fresh graduates eager to start their journey, experienced professionals, and even those looking for leadership roles like Director positions.

Smart Match-

HTT uses advanced algorithms to automatically pair companies with the most suitable candidates, eliminating the need for lengthy manual searches.

Team Dashboard-

Once you've hired, you can organize and keep track of your employees, tasks, and projects on our platform.

Quick Profiles-

Instead of sifting through pages of resumes, get concise profiles highlighting key qualifications, skills, and experience.

Efficient Search Tools-

Our easy-to-use filters allow employers to find candidates by skill, experience, location, and more.

Inbuilt Communication-

No need for external messaging apps or emails; discuss roles, expectations, and feedback directly on HTT.

Simplified Interview Scheduling-

Found a potential hire? Schedule a face-to-face or virtual interview without any hassle.
How to Get Involved With HTT: A Detailed Step-by-Step Guide
Having grasped the advantages and the inventive essence of the reverse recruitment process, you might be pondering, "How do I get started?" Curious about how Hire Tech Talent is helping recruiters? The subsequent stages are tailored for tech professionals and companies enthusiastic about undergoing a recruitment transformation. The process is uncomplicated, and soon enough, you'll be ready to immerse yourself in the world of the 'Hire Tech Talent' platform.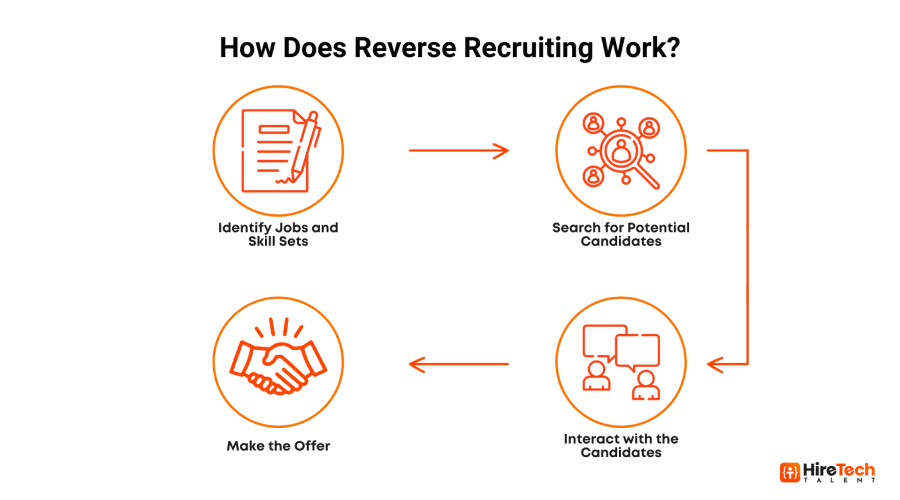 1. Profile Creation
Personal Details: Begin by entering your basic information – think of it as your digital introduction.
Work Experience: Detail out your professional journey. Highlight key roles, achievements, and skills.
Educational Background: Share your academic credentials, including courses, certifications, and specializations.
Career Aspirations: Clearly specify the roles you're targeting and any companies you're particularly interested in.
Location Preferences: Indicate whether you're looking for local opportunities, or remote roles, or are open to relocation.
2. Profile Assessment
Initial Screening: Our automated system checks for completeness and basic requirements.
Team Review: Every profile undergoes a meticulous review by our dedicated team to ensure relevance and authenticity.
Feedback Loop: If there are any gaps or additional details needed, you'll be notified to make updates.
3. Receiving Interview Invites
Profile Visibility: Once approved, your profile becomes viewable to our partnered companies/recruiters.
Matchmaking: Companies use filters to find candidates that align with their needs. Your skills and preferences play a crucial role here.
Invitation Notification: When a company deems you a good fit, you'll receive a notification for an interview request.
4. Making a Decision
Research: Before making a decision, delve into the company's profile. Understand their values, projects, and team dynamics.
Evaluate Offers: Scrutinize the job description, roles, responsibilities, and benefits.
Respond: With all the information at hand, decide whether to accept, decline, or seek more details regarding the interview invitation.
Gain Recruiter Access on Hire Tech Talent
For those looking to harness the capabilities of HTT for recruiting purposes, understanding the recruiter access process is crucial. Here's how Hire Tech Talent is helping recruiters with its specific steps and features that stand out:
Profile Visibility:

When talents finish their profiles, they are made visible to businesses on HTT. This makes sure that only thorough and detailed profiles are available to prospective employers.

Interaction between Companies and Talent:

Employers can use the platform to look for, contact, and connect with candidates.

Invites to Interviews:

Employers can invite candidates to interviews via the platform. These invitations provide crucial information about the position, the business, and other relevant details.

Blocking and declining:

To provide a seamless experience, talents have the freedom to reject interview invitations or prevent access to their profile by specific businesses.
Connecting with Tech Experts on Hire Tech Talent
Knowing the tools and capabilities available to you is essential if you're interested in using the best place to hire tech talent to connect with top tech talent. Here's a detailed look at how businesses might interact with prospective hires:
Talent Success Advisor:

Each candidate receives a Talent Success Advisor after completing their profile, who acts as a point of contact for the two sides.

Interview Scheduling:

If a match is found, businesses can schedule interviews directly.

Visibility and Accessibility:

Businesses can quickly locate and get in touch with professionals whose profiles match their needs.
Wrapping it up
The tech recruitment landscape has its challenges, but how Hire Tech Talent is helping recruiters is revolutionizing the game of hiring at its best.
We've transformed the traditional process, making it more direct and efficient, showcasing how Hire Tech Talent is helping recruiters and job seekers. This isn't just about filling roles; it's about creating meaningful connections and empowering both talents and companies.
Your journey with us isn't limited to just finding the right match with the assistance of Hire Tech Talent, the best tech hiring platform. We invite you to be a part of this transformative journey to understand how Hire Tech Talent is helping recruiters and potential talents.
Interested in learning more about Hire Tech Talent's potential? Contact us today!