Austria boasts an annual increase of over 10% in tech-related jobs, making it an exciting destination for tech enthusiasts like yourself, and with major tech companies Austria is successfully contributing to its reputation as a thriving tech hub.
But that's not all—once you land your dream job, you'll want to know your worth. Tech professionals in Austria can earn anywhere from 50,000 to 95,000 EUR annually, depending on their roles and experience.
Sound exciting right?
But the path to finding tech jobs in Austria can be daunting, filled with questions and uncertainties. You might be wondering: "How do I even begin to find jobs in Austria? What's the Austrian tech scene like, and how much can I expect to earn? What about visas and work permits?
Don't worry, we'll answer all your questions.
So if you are an aspiring tech professional dreaming of landing lucrative IT jobs in Austria and wondering how to even begin to find jobs in Austria, you're in the right place.
In the following sections, we'll guide you step by step, addressing your concerns and helping you realize your aspirations of working in the Austrian tech industry. Let's embark on this exciting journey together.
The Austrian Tech Scene
Are you wondering why so many tech professionals from India are eyeing Austria as their next career destination? Let's dive into the Austrian tech scene and discover the exciting opportunities awaiting you.
If you're wondering how to find jobs in Austria, then you should first focus on understanding the Austrian tech landscape as your first step. The tech industry here is thriving, and it's your gateway to a promising career abroad.
Job opportunities in Austria for Indian tech professionals- Take a look at the key insights into the Austrian tech scene.
| Key Aspects | Statistics |
| --- | --- |
| Austria's Tech Industry Growth | The sector is experiencing rapid growth, with an annual increase of over 10% in tech-related jobs. |
| Prominent Tech Companies | Austria is home to tech giants like Innowise Group, Depalma Studios, and Ancient. |
| Investment in Innovation | The Austrian government invests heavily in research and innovation, creating a conducive environment for tech professionals. |
| Emerging Tech Hubs | Vienna is emerging as a major tech hub, offering a plethora of job opportunities. |
| Tech Events and Meetups | The ViennaUP festival is a 7 day event run by the Vienna Business Agency with support from the Austrian Government and is one of the places to network in Austria. It offers various meetups and events for networking, finding job opportunities, and exploring business possibilities. |
Understanding the Austrian tech scene is essential because it reveals the vast landscape of job opportunities waiting for Indian tech professionals. With the tech industry growing rapidly and the presence of major companies, Austria is a promising destination for your career aspirations.
So, let's move forward and explore how you can tap into this thriving tech ecosystem and find your dream job in Austria.
Find Jobs in Austria
As an Indian tech professional dreaming of a career in Austria, you might be wondering where to start. Finding IT jobs in Austria can be both exciting and challenging. To simplify this, let's navigate this journey together and address your concerns.
As a newcomer to the job market, finding the right tech job can be challenging. You might be wondering:
Where do I find job openings?
How can I compete with experienced professionals?
What are the entry-level roles available in Austria?
Don't worry; we've got you covered. Let's unravel the answers to these questions.
Where do I find job openings?
As a tech enthusiast looking to start your career in Austria, one of the first challenges you might face is finding job openings in your field. Here's how you can navigate this:
Online Job Portals: These portals are a crucial resource in your job search. Websites such as Karriere.at, StepStone, Tech Job Wall, and Indeed have extensive listings for tech-related jobs in Austria. You can create personalized profiles, upload your CV, and set up job alerts based on your preferences.
Hire Tech Talent: Other than the traditional methods, it's essential to recognize the power of platforms like Hire Tech Talent. As a reverse recruitment platform, HTT flips the hiring process. Instead of you chasing employers, they come to you. All you need to do is create a comprehensive profile showcasing your skills and experiences. Austria's top tech companies are on the lookout for HTT, ready to make their move if your profile aligns with their requirements.
Company Websites: Many Austrian tech companies post job openings directly on their websites. If you have specific companies in mind that you'd like to work for, regularly check their careers pages for the latest job listings.
Networking Event/Job Fair: Job fairs serve as a valuable platform for aspiring tech professionals to engage directly in person with potential employers and recruiters. They present an opportunity to learn about various companies, their cultures, and the technologies they are employing. By attending fairs like the Tech Jobs Fair, job seekers can enable themselves to improve their skill set to meet those needs. This direct interaction with recruiters provides a more personal approach to understanding the job market and potentially securing a job opportunity.
How can I compete with experienced professionals?
Competing with experienced professionals as a newcomer might seem daunting, but it's entirely possible:
Showcase Your Skills: Emphasize your relevant skills and any projects or internships you've worked on. Create a strong online presence by sharing your portfolio, GitHub projects, or personal tech blog.
Networking: Building relationships with professionals can lead to mentorship opportunities and valuable insights. Experienced tech experts may even refer you for entry-level positions.
Continuous Learning: Demonstrate your commitment to self-improvement by pursuing relevant certifications or online courses. This shows potential employers that you're dedicated to staying updated in the ever-evolving tech field.
What are the entry-level roles available in Austria?
Understanding the types of entry-level roles in Austria's tech industry is vital:
Junior Developer: Junior developers typically work alongside experienced team members, assisting with coding, debugging, and testing. This role offers valuable hands-on experience.
Internships: Internship programs provide practical exposure to the tech industry. They are an excellent way to gain real-world experience and learn from experts.
Apprenticeships: Apprenticeships combine education with on-the-job training. These structured programs allow you to develop specific technical skills while earning.
Trainee Positions: Trainee roles often come with structured training programs designed to help you grow within a company. They may lead to permanent positions once the training period is complete.
Entry-Level Support: Support roles can include positions like technical support or help desk support. These roles allow you to gain industry experience while helping users troubleshoot tech issues.
Now that you have a clear understanding of how to find job openings, compete effectively, and the various entry-level roles available, let's move on to exploring why it's crucial to be aware of these opportunities as you embark on your tech career in Austria.
Why & How You Should Know About Job Opportunities for Beginners in Austria?
The key to your successful career in Austria is knowing how to find jobs in Austria, specifically tailored for freshers. Understanding the opportunities for beginners will not only ease your job search but also help you get a foothold in the Austrian tech scene.
But, before we delve into more details about how to secure these entry-level positions, let's introduce you to Hire Tech Talent—a tech-focused reverse recruitment platform that specializes in connecting talented professionals with job opportunities in Austria's tech industry.
In the upcoming section of the blog, we will explore this platform in-depth, uncovering how this candidate-centric platform works and helps you find jobs in Austria.
Now that you're familiar with where to find job openings, how to compete as a newcomer, and the entry-level roles available, it's time to talk about an essential aspect of your career in Austria: tech salaries.
Understanding what you can expect to earn in Austria's tech industry is crucial for making informed decisions about your future. Let's delve into the world of tech salaries in Austria.
Salary of Tech Professionals in Austria
| Job Role | Average Annual Salary |
| --- | --- |
| Software Developer | €57,000 |
| Data Scientist | €62,002 |
| Computer Systems Analyst | €59,754 |
| Information Security Analyst | €50,000 |
| Computer Scientist | €76,008 |
| DevOps Engineer | €65,255 |
| Cyber Security Engineer | €75,000 |
| Data Processing Engineer | €60,597 |
| Data Analyst | €48,800 |
Source: www.wearedevelopers.com
Notes: The salaries listed above are just averages. Actual salaries may vary depending on the employer, the employee's experience and skills, and the location of the job.
In addition to the higher salaries, tech professionals in Austria also enjoy a number of other benefits, such as:
Universal healthcare
Paid parental leave
Generous vacation time
A strong social safety net
If you are a tech professional who is looking for a high-paying job with good benefits, then working in Austria is a great option.
Types of Visas Required To Work In Austria
Red-White-Red Card
Purpose: Designed for various skilled workers from non-EU countries for long-term employment in Austria.
Subcategories: Seven different categories, including Skilled Workers in Shortage Occupations, Other Key Workers, Graduates of Austrian Higher Education Institutions, and Self-Employed Key Workers.
Application Process: Requires a binding job offer, evidence of qualifications, and a legal residence address in Austria. Applications are processed by local immigration authorities.
Fees: The application fee is €160; however, additional costs may arise for extra documents or Visa D requirements.
Processing Time: Varies, so applicants should consult local authorities.
Validity: Up to 2 years, tied to one specific employer.
Language Requirements: German or English proficiency is required, with certificates recognized by institutions like ÖSD, Goethe-Institute, TELC, and Cambridge among others.
Renewal: Possible upon proof of continued employment and legal stay.
Family Reunification: Family members are eligible for the Red-White-Red Card Plus, which allows free access to the labor market.
Pathway to Residency: Permits can lead to permanent residency and citizenship subject to conditions of continuous legal residence and integration.
EU Blue Card
Purpose: Highly qualified non-EU nationals with a job offer that matches their qualifications.
Validity: Up to 2 years, specific to one employer.
Criteria: A recognized university degree and a job offer with a salary meeting the minimum threshold.
Labor Market Check Waiver: May be waived for shortage occupations or high qualifications.
Application Process: Similar to the Red-White-Red Card but focused on high qualification levels and salary criteria.
Fees and Processing Times: Applicants should inquire with local authorities for the most accurate information.
Family Benefits: Holders can be joined by immediate family members who may apply for the Red-White-Red Card Plus.
Renewal and Permanent Residency: Holders can renew their card and may later apply for permanent residency or citizenship.
Red-White-Red Card Plus
Purpose: Offers unrestricted access to the Austrian labor market.
Validity: Up to 3 years, independent of a specific employer.
Eligibility: For family members of Red-White-Red Card or EU Blue Card holders, among others.
Application Process: Requires personal documents, a job offer, and proof of German language skills, with exceptions for certain permit holders.
Fees: The standard application fee is €160, with additional fees for extra requirements.
Processing Times: Varies; applicants should seek information from local immigration offices.
Renewal: The permit can be renewed and may lead to a Red-White-Red Card Plus with free labor market access.
Permanent Residency: After a period of continuous and lawful residence, holders may apply for permanent residency.
For more updated information please visit the Migration Platform of the Austrian Federal Government.
Finding Tech Jobs Through Hire Tech Talent
Hire Tech Talent is one of the best job boards for tech jobs embracing the essence of reverse recruitment, creating a bridge between tech professionals and companies in dire need of their expertise. It's not just about finding a job; it's about finding the right job where your skills are truly valued and utilized.
With features to enhance user experience, Hire Tech Talent is one of the best reverse recruiting companies to ensure a seamless journey for tech professionals, putting them in the driver's seat of their careers.
Reverse recruitment platforms, like Hire Tech Talent, are ushering in a new era of job hunting. While traditional job boards had their glory days, the modern professional seeks more control, relevance, and personalization, all of which reverse recruitment promises to deliver.
Go from signing up with us to getting hired in just a few steps-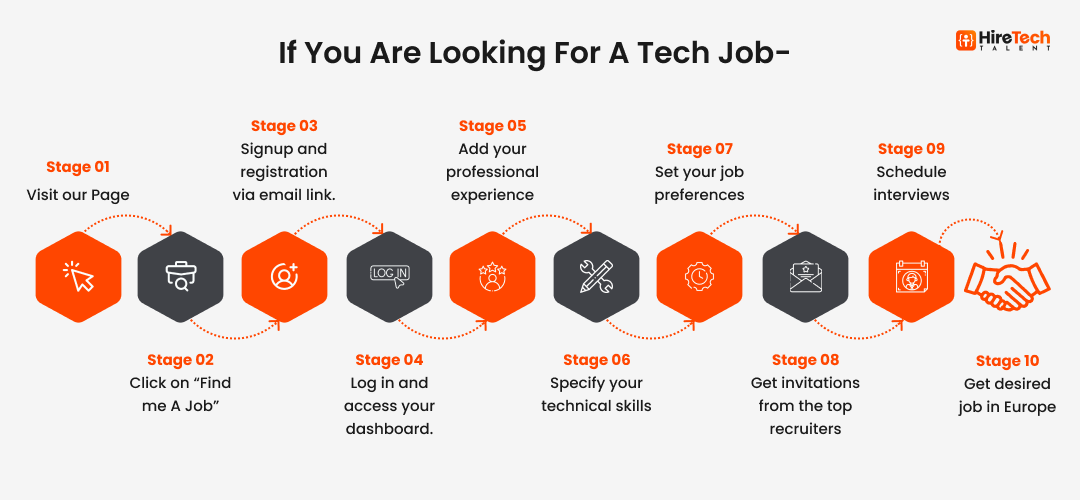 Navigating Hire Tech Talent is a breeze if you know the steps and strategy. With the right approach, tech professionals can find themselves at the crossroads of opportunity and ambition, ready to step into roles that truly value their expertise.
You've discovered that Austria is not just a picturesque European destination; it's also a thriving tech hub with a growing demand for skilled professionals. Whether you're a fresh graduate looking for entry-level opportunities or an experienced tech enthusiast seeking new horizons, Austria offers a world of possibilities.
Now, armed with insights into finding jobs, understanding entry-level roles, and knowing the visa requirements, you're ready to take the next step and find jobs in Austria.
And here's where we come in: Hire Tech Talent is your partner in the journey. Our platform connects tech job seekers like you with tailored job matches, industry connections, and step-by-step guidance on securing opportunities in Austria.
Don't wait any longer. Register with us and create your full profile- Hire Tech Talent will become your trusted companion in discovering and securing your ideal tech jobs in Austria. Your future in the Austrian tech industry awaits- take the leap now!